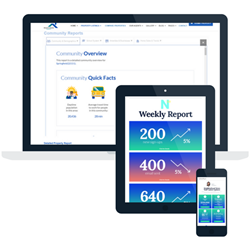 "Every improvement we make is around driving more quality home buyer and seller leads for our clients."
NEW YORK (PRWEB) October 18, 2017
Onboard Informatics, the leader in real estate information, announced today the fresh look of Nav 2.0, a web-based product that uses reports on the most valuable information in real estate to capture and nurture leads. Onboard launched Nav 2.0 earlier this year. The updated colors and bar is a reaction to feedback from the real estate market where consumers are looking for dynamic online content that captures their attention.
"The rising expectations of real estate consumers calls for a new level of presentation. It goes beyond accurate, instant data which is essential. Today's consumers also want clean, elegant design that makes the information easy to digest, understand, and use," said Senior Product Manager Dean Soukeras. "That's what we've achieved with this latest design of Neighborhood Navigator 2.0."
In addition to the new design, the updated Nav 2.0 includes a third bar. When Nav 2.0 launched earlier this year, it was made up of the "Nav Bar" and the "Nurture Bar." Together they engaged online visitors, converted those visitors to leads, and nurtured them with content they cared about until they were ready to take action. This latest release now includes a "Lead Bar" to capture online visitors who are ready to speak to an agent immediately.
"We are very excited about the new look and new bar in Nav 2.0," said Marc Siden, CEO and Co-Founder of Onboard Informatics. "The robust information it offers real estate consumers to better understand a local area or neighborhood is key to a successful real estate process. If we can help our clients identify those visitors who are ready to act immediately, it will only make this product more valuable. Every improvement we make is around driving more quality home buyer and seller leads for our clients."
The evolution of Nav 2.0 is reflected in these improvements, which conveys the agent not only as a local area expert, but also a professional, trustworthy source of this type of information. The bright, modern design is inviting and engaging for visitors and offers a more comprehensive understanding of the critical information presented.
The new design is reflected not only in the online community reports, but in the ongoing neighborhood alerts sent on behalf of the client. These emails are deployed twice a month on behalf of each client so they can automatically and easily stay in contact with digital leads using relevant, updated content.
Onboard is hosting a demo and Q&A session on the new and improved Neighborhood Navigator 2.0 on October 18, 2017 at 2:00 PM Eastern. To register, click on this link.