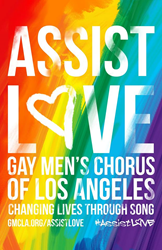 Los Angeles, CA (PRWEB) October 18, 2017
Through its newly launched digital campaign, #AssistLove, the Gay Men's Chorus of Los Angeles (GMCLA), one of the largest, oldest and leading LGBTQ arts organizations in the nation, invites community members to step-up, band together and take power through music, positivity and love, by supporting GMCLA in its efforts to expand its anti-hate and anti-homophobia services.
With many Americans feeling disempowered and frightened following growing media coverage of emboldened hate organizations and attacks on minorities and other marginalized groups, GMCLA's #AssistLove is a counter movement that inspires a new sense of hope and return a feeling of love in America.
"GMCLA's programs educate, enlighten and teach our children, families and community that there is no place in our world for bigotry, discrimination and the hate that we have so horribly seen on display, most recently in Charlottesville, Virginia," says GMCLA's Executive Director Jonathan Weedman. "We want to thwart and disable the pipeline of white supremacists and their degenerate ilk. We want to 'Assist Love,' and cut hate off at the pass."
Since its inception in 1979, GMCLA has consistently worked to change hearts and minds through its acclaimed musical performances as well as its advocacy work, and youth programs, the latter of which has collectively reached 50,000 kids in the last 10 years.
Through funds raised by way of the new #AssistLove campaign, the organization will tackle hate and homophobic rhetoric with its myriad community outreach programs, including its Alive Music Project; its partnership with the Arts for Incarcerated Youth Network; and its national it gets better Tour.
Launched in 2007, GMCLA's Alive Music Project has already reached tens of thousands of middle and high school students throughout the Southern California region.
Its recent partnership with the Arts for Incarcerated Youth Network is now providing a vehicle for youth in juvenile detention facilities to be inspired and empowered to see a greater future for themselves through arts education. GMCLA believes that such programming can ultimately eliminate recidivism and transform the juvenile justice system. GMCLA is the first LGBTQ arts organization to work with incarcerated youth in Los Angeles.
In addition to allowing GMCLA to continue with its impactful and critically important services, #AssistLove will also help GMCLA implement additional community outreach programming in Los Angeles and nationwide.
"AssistLove is an opportunity for everyone to support GMCLA's life-saving work with youth in middle schools, high schools, detention centers, and communities across the country. Studies have shown that LGBTQ teens are two to three times more likely to be assaulted or threatened in schools than their peers, leading to a suicide rate that is four times greater with LGBTQ youth, says Dr. Joe Nadeau, GMCLA's Artistic Director and Conductor.  "As an affirming LGBTQ organization, GMCLA helps create spaces where young people can stand up to bullying and are empowered to be their true authentic selves."
Individuals can help support the movement by using the hashtag #AssistLove to show how they resist hate, or help raise funds in two different ways by either contributing a donation to the campaign on http://www.GMCLA.org/assistlove or by becoming a fundraiser themselves and helping raise donations through their own networks.
For more information, visit http://www.gmcla.org, or call (424) 239-6514.