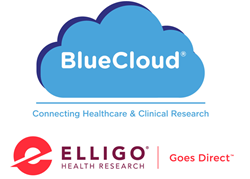 AUSTIN (PRWEB) October 24, 2017
HealthCarePoint (HCP), a Texas-based health care and clinical research networking-technology company founded by patient survivors, today announced its mutual collaboration with Elligo Health Research. The collaboration will further both companies' shared mission of positively transforming clinical research by improving efficiency and transparency.
HealthCarePoint will provide Elligo private VIP opt-in access to the BlueCloud® network, and, by deploying its BlueCloud cluster technology, Elligo also improves its current efforts in developing a network of investigator sites. This collaboration will improve transparency of regulatory, training and other certification documentation for Elligo's healthcare professional (HCP) partners.
"With this networking technology, HCPs will have a central repository to keep their research related regulatory, training and other certification records," said Keith Fern, Elligo's Chief Commercial Officer. "It also enables Elligo and our sponsor customers access to this verified and secure information as needed to perform qualification visits and audits."
Elligo will provide support to its sites within the BlueCloud network to ensure they take advantage of all the benefits BlueCloud makes possible. With support such as this — through its Goes Direct™ approach — Elligo provides the infrastructure that makes it possible for physicians to conduct clinical research in their own clinics with their own patients.
"By adding HCP's BlueCloud technology, we are able to improve our services to advance clinical trial conduct," Fern added. "HCP shares our goals to bring more physicians and patients into clinical research by increasing trial efficiency as well as reduced cost and infrastructure.
"By developing and centralizing data in collaborative systems, health care professionals at all levels greatly benefit because they can share and access information in real time," said Al Pacino, President at HealthCarePoint. "Many health care companies share similar goals with those in clinical research. BlueCloud is a technology that helps us to break down unnecessary barriers by empowering connectivity so that all stakeholders benefit and ultimately leave no patients behind."
Elligo Health Research offers the only platform that brings clinical research to the clinic, accelerating the development of new pharmaceutical, biotechnology and medical device products and therapies. Elligo Goes Direct™ with an approach that uses electronic health records and other health data to identify real-world patients and physicians for participation in clinical studies. Elligo supports health care providers by providing personnel, procedures, technology and infrastructure for clinical research, enabling patients to participate in research while remaining under the care of their own trusted physician. Learn more at elligodirect.com.
About BlueCloud by HealthCarePoint
BlueClouds are preferred destinations for healthcare and clinical research professionals, employers and stakeholder organizations. Nominated as one of the top innovations in the industry, BlueCloud® is the first independent (real-time/single sign-on) global Professional Network. A global collaborative network connects healthcare professionals and organizations in a secure, private system. It is comprised of various networks, including education, standards, technology, healthcare professionals, research sites, healthcare sites, schools and patients, that organize, centralize and share verifiable information for managerial and compliance activities. Available in over 162 countries, BlueClouds are used by over 1.3 million healthcare professionals from sponsors, CROs, research sites, hospitals and universities to thousands of healthcare and clinical research stakeholders. Saving the industry millions of dollars by eliminating redundancies, BlueClouds expedite study startup as well as ensure quality, transparency and compliance with the united mission of leaving no patient behind®.