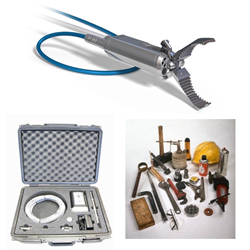 JAWS 2.0™ is the world's first ruggedized, waterproof, motorized retrieval tool with integrated color camera and LED lighting.
BOALSBURG, Penn. (PRWEB) October 18, 2017
Sensor Networks, Inc.(SNI) is pleased to announce that it will launch JAWS 2.0™, the world's first ruggedized, waterproof, motorized retrieval tool with integrated color camera and LED lighting, at this year's ASNT Fall Conference in Nashville, TN on October 30 – November 2, 2017. JAWS 2.0™ is a product of SNI's RVI Division and the result of over 25 years of experience in the specialized field of loose-parts retrieval tooling and know-how.
The JAWS 2.0™ tool is ~1.3" (33 mm) in diameter and 6.5" (165 mm) long and features interchangeable end-effectors that can open up to 2.75" (70 mm) wide, enabling it to grab and retrieve objects as heavy as a 4-lb. (1.6-kg) hammer. The tool's very short length allows it to navigate a 1.5D-radius elbow in a 4" (100 mm)-diameter schedule-40 pipe. JAWS 2.0™ comes with 50' (15.2 m) of detachable cable (with a 100' (30.4 m) option) and a small hand-held power supply/controller with an integral 2" (50 mm)-diagonal color-TV monitor.    
The unique, patent-pending design of JAWS 2.0™ can be customized with several different end-effectors, including a fork-and-tine grabber, pliers, wire cutters, snares, magnets, and material-sampling cups. Various tool-delivery hardware (such as fiberglass poles, flexible and adjustable elbows, and a T-handle for rotational control of the tool) is also available.
In addition to introducing JAWS 2.0™, SNI will be exhibiting its three major product platforms at the ASNT Conference in Nashville: installed sensors, ultrasonic (UT) solutions, and remote visual inspection (RVI) products.
About SNI: Smarter Solutions for Your Complex Asset Integrity Challenges
With an unparalleled depth of experience and expertise in the highly specialized fields of ultrasonic and remote visual technologies, the Sensor Networks team brings together the very best minds in the business to deliver smarter solutions with a refreshingly personalized approach for the world's critical asset management applications. Developing breakthrough innovations that transform and integrate the definitions of cost-effective, precision and ease-of-use, Sensor Networks addresses unique industrial challenges including: remote non-intrusive corrosion monitoring of plant piping, vessels and other components in refineries as well as experience-based UT applications engineering, standard and customized transducers and remote visual tooling for demanding in-situ test and inspection applications in aerospace and power generation. For a product brochure, please visit http://www.sensornetworksinc.com. For a complementary product demonstration, please contact us at customercare(at)sensornetworksinc.com.