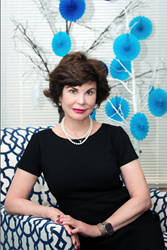 We are excited to be the first in the triad area to introduce Geneveve to our clients!
WINSTON-SALEM, N.C. (PRWEB) October 20, 2017
Anne L. White, M.D., founder of Carolina Laser and Cosmetic Center announced that her practice is the first in the Winston-Salem, Greensboro, High Point Triad area to offer Geneveve™ by Viveve®, the single-session, 30-minute, in-office treatment for women with vaginal laxity, sexual dysfunction and SUI (stress urinary incontinence) that incorporates patented radiofrequency energy to stimulate and generate collagen.
"We are excited to be the first in the area to introduce Geneveve to our clients," Dr. White said. "Geneveve treats vaginal laxity, which results from over stretching the vaginal introitus (opening) during childbirth. As a result of this tissue damage, women can experience a decrease in sexual satisfaction and physical sensation during intercourse, which can adversely impact sexual health and quality of life." She added that just like procedures that stimulate collagen to make the face and body more youthful, Geneveve uses collagen stimulation to shrink vaginal tissue achieving previous tightness.
During vaginal childbirth or sexual activity, over a period of time these tissues around the vaginal opening can over-stretch. The loss of tightness eventually leads to a diminished sexual sensation, dissatisfaction during intercourse and may affect your happiness in your intimate relationship and overall quality of life.
"Geneveve is a perfect complement to our labiaplasty procedure allowing women to experience a return to their pre-pregnancy days of vibrancy, lubrication and tightness and decreasing stress urinary incontinence," said Dr. White. She added that in a sexual satisfaction survey of women who had undergone the Geneveve treatment after experiencing vaginal deliveries, 67% of the women reported an increase in vaginal tightness at 30 days and 87% at six months after the treatment. While vaginal rejuvenation surgery is right for some patients, many more just need a simple non-surgical outpatient treatment that requires no anesthesia.
Anne L. White, M.D. has been in private practice in Winston-Salem since 1988; focusing on cosmetic and laser procedures since 2002. She is one of the most experienced cosmetic surgeons in the Piedmont Triad area. Her practice focuses on safe, effective, no or minimal downtime, cosmetic and laser procedures. She is a Fellow of the American Society for Laser Medicine and Surgery and the American College of Phlebology. She is a member of the American Academy of Cosmetic Surgery, the American Medical Association, the National Rosacea Society, the International Hyperhidrosis Society, Liposuction.com and the Skin of Color Society.