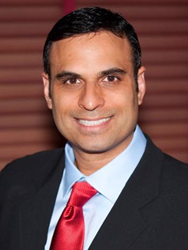 CHICAGO (PRWEB) October 18, 2017
Chicago, IL, periodontist Dr. Amarik Singh, DDS, MS, joined his colleagues from September 9-12, 2017, at the American Academy of Periodontology (AAP) 103rd Annual Meeting, "Navigating the Future of Periodontology." Held in Boston, MA, this year, the yearly AAP Meeting provides periodontal professionals with several days of continuing education and development opportunities.
During the AAP sponsored event, Dr. Singh learned and networked with other well-regarded periodontists from around the nation, discussing the latest developments in the field of periodontal wellness. A strong focus of the 103rd Annual Meeting was the topic of emerging trends regarding implant dentistry. As a periodontist who has placed more than 15,000 dental implants during his two-decade career, Dr. Singh had a special interest in learning about new opportunities to bring his patients.
Named by "Wellness Hour" host Randy Alvarez as the first choice for dental implants among periodontists in Chicago, IL, Dr. Singh utilizes cutting-edge laser dentistry and computer-aided software to perform more precise dental implantation surgeries. A huge proponent of lifelong education, he regularly applies the most modern technologies to improve patient care.
Dental implants have become a standard method to permanently restore missing teeth. Many of Dr. Singh's patients have struggled for years with one or multiple missing teeth, which is not unusual in the American adult population. More than half of men and women over the age of 45 are missing at least one natural tooth. Instead of relying on bridges or dentures, more and more individuals prefer to have a solution that requires no special maintenance after placement and can last 20 or more years.
Dr. Singh is currently accepting new patients interested in finding out if they are right for dental implant surgery. His office number is 630-424-9404, and initial consultations to determine candidacy for implant dentistry are complimentary.
About the Doctor
Periodontal Implant Associates is a periodontal practice offering personalized dental care for patients in Oak Brook, IL and the Chicago area. After graduating from Northwestern University Dental School, Dr. Amarik Singh went on to obtain his Specialty Certificate in Periodontics and earn his Master's from Northwestern University. Dr. Singh is deeply committed to continuing education and prides himself on remaining on the cutting-edge of the newest techniques and technology in dentistry. Dr. Singh has placed over 15,000 dental implants using minimally invasive techniques and is part of an elite group of dental professionals at the forefront of the Chao Pinhole® Surgical Technique (PST™), a revolutionary new approach to repairing gum recession. To learn more about the periodontal services available at Periodontal Implant Associates, please visit http://www.pidentists.com or call 630-424-9404.