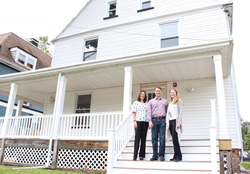 MONTCLAIR, N.J. (PRWEB) October 23, 2017
Lform Design (https://www.lform.com), a full-service digital agency specializing in web design, app development, corporate branding, and digital marketing, has relocated to Montclair, NJ. Nestled in the heart of Montclair on 42 Park Street, the freshly renovated three-story building will be the company's new headquarters. Lform Design also has a satellite office in Manhattan.
"I couldn't be happier about this move," said Ian Loew, Lform Design owner and creative director. "Montclair is vibrant, thriving community with amazing culture and great small businesses on every street—it's a true epicenter of entrepreneurism. We're so glad to be here."
Loew is a Montclair native.
Previously headquartered in Verona, NJ, Lform Design has helped hundreds of US-based manufacturing companies and consulting businesses build their online brand and digital presence with modern responsive websites, apps, corporate branding, and social media. Lform Design currently employees six full-time digital experts and is the recipient of four 2017 AVA Digital Awards for excellence in web design and development, including two platinum awards and one gold.
"This is a really exciting step for us," said Brandon Fenning, Lform's senior developer. "I've been with this web design company for nearly ten years. It's amazing to see us move into a space that we can continue to grow into. The ability to make this move is absolutely a testament to our design prowess and digital expertise."
About Lform Design
Lform Design is an award-winning web design specializing in branding, web design and development, and digital marketing for business-to-business companies in manufacturing and consulting. Lform was founded in 2005 as a boutique agency with offices in New Jersey and New York City. Since its inception, Lform has developed hundreds of high-impact custom websites and digital marketing plans that yield measurable results. In the last decade, Lform has gained regional attention for its creativity, people-focused approach, and first-rate service. The agency is headquartered in Montclair, NJ. For more information, visit https://www.lform.com.