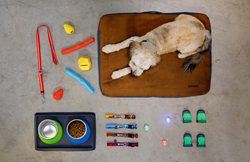 2017's pet-related sales are expected to reach almost $70 billion. With spending at an all-time high, you can bet many trusty canine companions will be included in holiday purchases, from millennials to baby boomers.
BEND, Ore. (PRWEB) October 23, 2017
The holiday season is approaching, and 50% of all US households report having at least one dog. With pet spending at an all-time high, (2017's pet-related sales are expected to reach almost $70 billion) you can bet many trusty canine companions will be included in holiday purchases, from millennials to baby boomers. Ruffwear, the leader in performance dog gear, has products to inspire adventures for outdoor athletes and their human companions this holiday season.
NEW! Pacific Gnaw-West Toy Series ($9.95-19.95)
Taking inspiration from nature, the Pacific Gnaw-West series features three durable, chew-resistant toys made from renewable, natural rubber. All offer erratic bounce for engaging play. The Gnawt-a-Stick™ floats, while the Gnawt-a-Rock™ and Gnawt-a-Cone™ feature internal chambers for hiding kibble or peanut butter.
NEW! Basecamp™ Collection ($34.95, $24.95)
The Basecamp™ Collection is designed to keep canine adventurers fueled and hydrated at home base. The powder-coated, food-grade stainless steel Basecamp™ Bowl is nudge-proof and stackable. The Basecamp™ Mat holds two Basecamp™ Bowls side-by-side and features a waterproof surface, sturdy walls to contain spills and a coated, grip base.
UPDATED! The Beacon™ ($24.95)
USB rechargeable, waterproof light features three light colors and three light patterns for low-light visibility. The Beacon™ can be clipped to apparel, harnesses, packs and collars.
Urban Sprawl™ Bed ($149.95 - $199.95)
A dog who plays hard, sleeps hard. This plush bed is perfect for winding down after adventures. High comfort yet low profile, the two-sided mattress provides the option of a soft or firm sleeping surface, perfect from puppy to aging adventurer. Soft, long-wearing sleeping surface and waterproof grip base. Machine washable cover and mattress. Integrated handle.
NEW! Patroller™ Leash ($29.95)
Inspired by working dogs and their handlers, the Patroller™ Leash can be comfortably waist-worn for quick and easy access while training, working, or playing with your canine companion. Adjustable length from 30-40".
UPDATED! Summit Trex™ Boots ($49.95)
This popular everyday boot features a weather-resistant upper, flexible traction and a reliable, intuitive hook-and-loop cinch closure system. Perfect for everyday traction and paw protection from wet conditions, abrasive surfaces and salt or snowmelt chemicals.
NEW COLORS & PATTERNS! Hoopie™ Collar ($19.95)
An everyday collar with outdoor-inspired patterns and easy-to-use side release buckle. Aluminum V-ring for secure leash attachment, Quick Ring™ to easily add/remove ID tags, silicone tag silencer, and durable webbing.
ABOUT RUFFWEAR
Ruffwear's mission is to build performance dog gear to enhance and inspire exploration for outdoor adventurers and their human companions. For more than 20 years, Ruffwear Performance Dog Gear™ has combined technology, quality, fit, function, and safety to facilitate its belief that every dog is an explorer.
Ruffwear is committed to enhancing the lives of all dogs and their human companions through relationships with Best Friends Animal Society and The Conservation Alliance. Through its Ruff Adventure Dog Adoption Program with Best Friends, Ruffwear covers the cost of adoption fees and travel expenses for newly adopted dogs from the Kanab, Utah sanctuary, as well as a new Ruffwear collar and leash to go home with. By protecting wild places for their habitat and recreation values through membership in The Conservation Alliance, Ruffwear works to ensure there are plenty of wild, open spaces for dogs and their humans to enjoy together.
Based in Bend, Oregon, Ruffwear sells its products through specialty pet and outdoor retailers as well as at http://www.ruffwear.com. For more info, please contact Kate Ketschek, kate(at)revolutionhousemedia(dot)com or 603-828-1050.