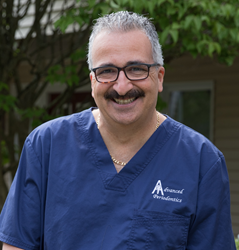 Monroe, CT (PRWEB) October 18, 2017
Dr. Richard Amato, leading periodontist in Monroe, CT, is reaching out to current and future patients during Dental Hygiene Month in order to raise awareness of peri-implantitis treatment. Specifically, Dr. Amato and his team at Advanced Periodontics and Dental Implant Center of Connecticut are encouraging patients with dental implants to quickly visit a periodontist at the beginning signs of issues such as peri-implantitis.
Peri-implantitis occurs in and around the gums surrounding the titanium-based dental implant post. The most common symptom of peri-implantitis is swelling around the site of the dental implant. The swelling may be accompanied by bleeding, heightened sensitivity, pus, and implant looseness. As the soft tissues, or gingiva, grow increasingly irritated and swollen, the ailing dental implants face the risk of failure. In extreme cases, this can lead to surgical removal of the implants.
When treated by a certified periodontist in Monroe, CT, using the modern laser technique known as the LAPIP® protocol, 95 percent of all patients who exhibit signs of peri-implantitis, also known as failing implants, can save their dental implants and restore their oral health. Dr. Amato, voted Top Periodontist by Connecticut Magazine is certified to offer the LAPIP protocol, a minimally invasive peri-implantitis treatment using the power and precision of laser tools and computerized software. The LAPIP protocol is preferred by many clinicians and patients, alike, for comfortable, reliable infection removal around dental implants, and helps many peri-implantitis patients return to optimal oral function and appearance.
The Advanced Periodontics and Dental Implant Center of Connecticut accepts new patients during and beyond Dental Hygiene Month, including those experiencing issues related to failing dental implants, and encourages patients to schedule an appointment with a qualified periodontist in Monroe, CT. Appointments are available by calling 203-712-0917.
About the Doctor
Dr. Richard Amato is a leading periodontist and dental implant specialist who provides personalized dental care using the most advanced technology for patients at Advanced Periodontics and Dental Implant Center of Connecticut LLC in Monroe, Connecticut. He has placed thousands of dental implants since 1989. Dr. Amato earned a DDS degree from Stony Brook University. He then completed a full-time multi-year specialty residency and received his Certificate of Proficiency in Periodontics from Eastman Dental Center at the University of Rochester. He belongs to the one percent of dentists in the USA currently providing the first FDA-cleared laser procedure for gum disease treatment. Dr. Amato is the first and most experienced provider of LANAP® therapy in Fairfield County, Connecticut as well as the first Periodontist to provide the Pinhole® Surgical technique in CT. To learn more about Dr. Amato and his dental services, visit his website at http://www.connecticutperiodontist.com and call 203-712-0917.