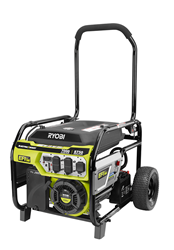 ANDERSON, S.C. (PRWEB) October 17, 2017
EFI technology has been used extensively in the automotive and houseboat industries as an environmentally responsible advancement in engine technology. TTI is pleased to introduce the many performance enhancing advantages of EFI technology to its product lineup.
The new EFI engine option is featured on the RYOBI RY907000FI model generator and provides up to 20% greater fuel savings, compared to a standard carbureted engine while also improving starting and performance at all elevations. Most significantly, the onboard electronic engine management system greatly reduces Carbon Monoxide (CO) exhaust emissions emitted from the engine. CO related poisoning is a leading cause of portable generator related injuries and deaths throughout the United States. "The most effective way to mitigate the potential for CO related injury is to first address the hazard at the source by lowering the amount of CO produced," says Lee Sowell, President of TTI Power Equipment Outdoor Products division. "This new engine technology being applied to portable generators has the potential to save lives and prevent countless injuries. We look forward to advancing this technology throughout the portable generator industry."
TTI began production of the Ryobi model RY907000FI generator in September 2017 at its manufacturing facility in Anderson, SC. As production increases, consumers in the United States will be able to purchase the RYOBI® EFI Portable Generator exclusively online at the Home Depot, through the retailer's website http://www.homedepot.com.
ABOUT TTI
TTI is a world-class leader in design, manufacturing and marketing of Power Tools, Outdoor Power Equipment, and Floor Care and Appliances for consumers, professional and industrial users in the home improvement, repair and construction industries. For more information about TTI, please visit http://www.ttigroup.com