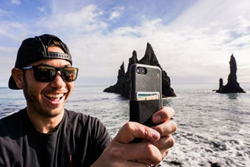 A1 Since Day1
Houston, TX (PRWEB) October 18, 2017
A1 Accessories is pleased to announce the launch of its new line of premium iPhone pocket cases. The cases are manufactured of highest quality vegan nubuck leather in two colors, mocha and obsidian. The functional design provides a place for users to carry up to eight credit cards, cash, receipts, tickets and other items. This is the essential pocket case that protects an iPhone in a fashionable and functional way for work and play. The sleek sophisticated concept has premium elastic wrapped around the bottom where credit cards and cash will fit snugly and safely. Embossed gold branding completes the stylish case, placing this iPhone case at the top of everyone's Christmas list this year.
A1 Accessories was born out of a shared passion for design and well-made products. The company goal is to provide premium materials, functional design, and attention to details, to create accessories with personality that will enhance each person's life. The pocket case is the essential case to store an iPhone in a fashionable and functional way for work, play, and a life worth living.
The Kickstarter campaign will run for 30 days and offer the new iPhone pocket case at special prices to those willing to help fund the first production line of products. Both the obsidian and mocha designs are available for the iPhone 7, 7+, 8, 8+ and X. The patent pending design is the first that allows users to carry credit cards, cash and other items while still being slim enough to fit comfortably in a shirt or jeans pocket. All products are fully guaranteed.
CEO of the company, Dalton Worley, had this to say: "When it comes to accessories like watches, sunglasses, and wallets there seems to be an endless variety of different options. However, for phone cases, we are stuck with either cheap and functional but ugly, or a phone case that doesn't last. After searching the market for a premium wallet phone case that was both functional and looked good, it was clear that it just didn't exist. That's when A1 Accessories was born. Our goal was to create an affordable phone case that not only looks great, but is also highly functional. By combining premium vegan nubuck leather with an expandable high strength elastic wallet sleeve, we've created a phone case that both looks and functions well, without breaking the bank."
The case is available now through Kickstarter at the reduced price starting at $20. The iPhone case comes in five different sizes including the iPhone 8 & X with two beautiful color combinations to choose from, mocha and obsidian. With Kickstarter support, the creators plan to finalize the production of these phone cases with the hope of having the first product delivery at the beginning of December.
A1 Accessories will continue to work on creating functional, quality items that people use every day utilizing a more distinguished concept for those with impeccable taste. The motto for A1 Accessories is Functionally correct, always appropriate for those who seek a life worth living. Please check out the Kickstarter campaign at: POCKET CASE for iPhone
About A1Accessories
A1 Accessories was founded on the belief that style shouldn't break the bank. The company goal is to change the way consumers think about accessories and fashion by delivering premium accessories at a fair price. Their mission was to create an iPhone wallet case that not only looks amazing but also works great. After many design revisions and prototypes, the new iPhone case was created. It utilizes a high quality expandable elastic pocket that securely holds up to eight credit cards, as well as cash and other small objects. The extremely durable vegan nubuck leather looks better when aged. Together these features create the ideal complement of fashion and function for a modern lifestyle. For more information please visit the website: https://a1accessories.us/. Or visit us on Facebook or Instagram.