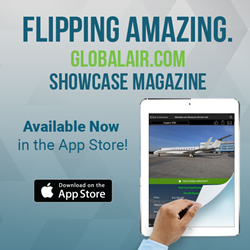 Essentially, we've created a user experience that enables communication. Whether directly to the seller or socially via the apps connections to the users other apps
Louisville, KY (PRWEB) October 18, 2017
Developed for high wealth individuals who crave the world of flight as a pilot for business and pleasure or as a CEO interested in the purchase of a long range corporate aircraft to enhance the company's profitability. Finding the right aircraft is now as easy as tapping on the screen of an iPhone or iPad thanks to a new App announced today by GlobalAir.com. The Louisville, Kentucky-based Internet aviation search engine and information service is making "bulky, heavy bound paper resources a thing of the past—for both buyers and sellers of aircraft," according to Jeffrey Carrithers, chief executive officer of GlobalAir.com. "We've revolutionized access to aircraft that are on the world market with a free, on-line App that features high quality images, technical information, range and performance data. This is the first multi-dimensional digital magazine in the form of an app. It will be how information is dispersed in the future. We have significantly raised the bar."
"Essentially, we've created a user experience that enables communication. Whether directly to the seller or socially via the apps connections to the users other apps," he continued. "This is not just a website with an app cover. The Aircraft Showcase was designed from the ground up using app technology, page flipping, geolocation (GPS) range finder, social media interaction and several other tools. The classifications of aircraft range from amphibians to commercial; experimental/kit; helicopters; light sport; private jet; single engine piston; single engine turbine; twin engine piston; twin engine turbine; vintage; and warbirds."
Carrithers emphasized that the app is not only free to download but it provides additional features to those who register and share information for Globalair's analytics. "We ask a few basic questions such as 'Are you a pilot, aircraft owner or potential buyer?' and 'Do you fly for personal or business reasons?' Registration also triggers the creation of an account to the Globalair.com website and provides access to a variety of on-line tools. The app is efficient in more ways than just displaying aircraft," he explained.
"The days of looking for an aircraft by leafing through stacks of magazines are history," Brett Davis, Globalair's.com's, chief technical officer pointed out. "Now, thanks to the Aircraft Showcase, you will see people 'flipping the pages' of the app, which display far more details, offer more tools, technical data and aircraft history at their fingertips than the pages of a magazine. And, the app doesn't weigh anything or take up space in a briefcase. The Aircraft Showcase is constantly being updated so you don't need to wait until next months issue. Bottom line, we have created the modern day high end classifieds in an app." Davis grins.
"The Globalair.com Aircraft Showcase app brings the marketplace to serious buyers and sellers of aircraft around the globe.Download the app at the Apple Store Aircraft Showcase App." Carrithers said.
---Based in Louisville, Kentucky, GlobalAir.com serves the general aviation, business aircraft, and regional airline communities by offering clients and online visitors a wide range of premium aircraft and aviation-related data and services. Services offered by GlobalAir.com include Aircraft Exchange which lists aircraft for sale or lease, Airport Resource Center (ARC) that displays U.S. airport data and fuel prices, Aviation Directory and Aviation Events both containing thousands of companies and events. GlobalAir.com's website has been online since 1995 and helps connect the aviation industry. For more information regarding GlobalAir.com, visit http://www.globalair.com, or e-mail Jeffrey Carrithers at jeffrey@ganmail.com, or call 502-456-3934.