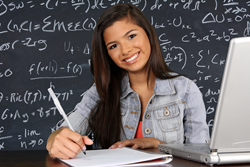 "Students need systematic review and thorough mastering of required knowledge and skills to achieve excellent results in entrance exams," Dr. Jiayuan Fang, the Founder and CEO of Afficient Academy
San Jose, CA (PRWEB) October 19, 2017
Afficient Academy, Inc. announced today to release its intelligent computer programs for the preparation of entrance examinations (ISEE and SSAT) of US private middle and high schools.
Entering US private middle and high schools typically requires taking either ISEE (Independent School Entrance Examination) or SSAT (Secondary School Admission Test). Good private schools are very competitive; therefore, a thorough preparation of ISEE or SSAT can be the key to gaining admissions.
"Students need systematic review and thorough mastering of required knowledge and skills to achieve excellent results in entrance exams," said Dr. Jiayuan Fang, the founder and CEO of Afficient Academy. "Afficient Academy's intelligent computer programs help students to review and master skills efficiently. Afficient Academy's first computer program, Afficient Math, released about two years ago, has been successfully deployed in Afficient Academy Learning Centers and has helped students achieve excellent results efficiently. We hope this newly released test preparation products for ISEE and SSAT help students enter into the schools they wish to go."
Afficient Academy's ISEE and SSAT test preparation programs are web-based programs which are personalized and self-paced. They lead students to carry out a systematic review of all relevant materials. By comprehensive analysis of student's entire learning activities, the programs constantly measure student performance, intelligently identify student weak areas and generate problems accordingly until all the skills are sufficiently mastered. With Afficient Academy's proprietary methodology, which is US patent allowed, students are empowered to achieve excellent results efficiently.
Test preparation products for ISEE Lower, Middle and Upper are available now. The products for SSAT Upper and Middle are expected to be available around the end of October and mid-November respectively.
Each test preparation product (ISEE Lower, ISEE Middle, ISEE Upper, SSAT Middle, and SSAT Upper) is priced at $490. The initial purchase of a product allows online access of the product for 3 months, followed by one-month ($150) or 3-months ($275) extension. Refund of the payment for the initial purchase can be made if user requests within 7 days after the purchase.
Early Bird Discount. Any purchase made on or before November 30, 2017 will enjoy a 20% discount, which brings the product price from $490 to $392.
More descriptions on the test preparation products as well as the purchase of the products can be found online http://www.afficienta.com/#!/test-prep, or at Afficient Academy Learning Centers, or call 408-627-7669.
About Afficient Academy
Afficient Academy was founded in 2014 in Silicon Valley US, devoted to developing a new generation of education programs for elementary, middle and high school students. Afficient Academy's intelligent computer programs together with learning center teacher supervision significantly enhance the learning effectiveness of students.
By taking Afficient Academy's programs, students build a strong foundation by mastering previously learned materials, complete current and above school grades in a few months per grade, succeed in getting into advanced math tracks at school, gain self-confidence, and find more time available to do extracurricular activities.
Afficient Academy has several learning centers in the Bay Area and plans to grow its business through openings of both the corporate and franchise learning centers.
Afficient Academy is also developing and releasing intelligent computer programs for the preparation of entrance exams (ISEE and SSAT) of US private middle and high schools.
To learn more about Afficient Academy visit: http://www.afficienta.com
Contacts: info(at)afficienta(dot)com
Afficient Academy Inc. 1054 S. De Anza Blvd. Ste 201, San Jose, CA 95129