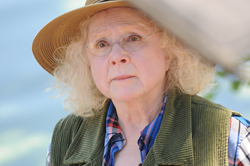 We celebrate the works of women making films.
BEVERLY HILLS, Calif. (PRWEB) October 18, 2017
The Lupe Ontiveros Image Award will be presented to actress Dawnn Lewis (A Different World, Major Crimes) by Elias and Nicholas Ontiveros, sons of the award's namesake who passed away in 2014. The Image Award is given to pay tribute to the ideals that shaped Lupe's career: never accepting the status quo, demanding more and better roles for women of color and advancing the careers of women in film.
Legendary actress Piper Laurie will receive the Lifetime Achievement Award. Miss Laurie's career spans over 50 years and she has given memorable performances in such films as "The Hustler," "Carrie" and "Children of a Lesser God" which all earned her Oscar nominations.
Ava Cantrell is this year's recipient of the Rising Star Award. She is the star of the hit Nickelodeon series "The Haunted Hathaways" and was the supernatural protagonist Diana in the New Line Cinema's horror feature "Lights Out." She will soon be seen in the upcoming science fiction feature "One Under the Sun."
Valerie McCaffrey is the 2017 honoree for Executive Achievement Award. She is an award-winning casting director and producer best known for her breakthrough casting of the drama, "American History X" starring Edward Norton. She also served as Director of Casting for Universal Studios for 8 years, followed by a stint as VP of Casting for New Line Cinema for 6 years. She currently cast the feature, "The World Without You" based on the best-selling novel by Joshua Henkin and stars Radha Mitchell, which will be released in 2018.
The Ceremony starts at 7 pm on Sunday evening (red carpet to begin at 6pm) and is followed by a complementary mixer with food and drink for our invitees.
The show will celebrate and honor the accomplishments of the filmmakers in numerous categories including Best Feature Film, Best Screenplay, Best Documentary, Best Short Film, Best Music Video, Best Feature Director, Best TV Pilot, Best Foreign Film, Best Animated Short and Best Student Short.
Leslie LaPage is an Independent Producer currently Producing several TV projects. "Unrest" a TV project developed by Leslie LaPage, Phil Giangrande, Vanessa Heron, Created by Leslie LaPage, Julia Solomonoff and Patricia Velasquez starting Patricia Velasquez is a gripping drama centering around an investigative reporter and a worldwide conspiracy.
This year's festival sponsors and media partners include: SAG-AFTRA Diversity Division and LGBT Committee, (WGA) Writers Guild America West Women's Committee, The Governor's Office of Film and Entertainment State of Florida, CBS Entertainment Diversity, Sony Pictures Entertainment, Dollhouse Makeup, Columbia College Hollywood, Creative Handbooks, and Food Perfected Catering.
Contact Deborah Gilels for more information, interviews or press credentials for the event at ddgilels(at)prodigy(dot)net.