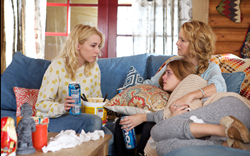 Where women make movies and entertainment
Beverly Hills, CA (PRWEB) October 19, 2017
The 13th Annual LA Femme International Film Festival (LAIFF) presents two special screenings of upcoming theatrical releases at the Regal Cinemas at LA LIV in downtown Los Angeles on October 20 (Friday) and October 21 (Saturday), 2017.
On Saturday, Oct. 21, actress and past LAIFF Honoree Lea Thompson (Back to the Future, Caroline in the City) will host a special screening of her feature directorial debut feature film "The Year of Spectacular Men", a zesty romantic comedy written by her daughter Madelyn Deutch, who stars with her real-life sister Zoey Deutch. The red carpet starts at 6pm; screening at 7 pm and will be followed by a Q&A with Lea Thompson, Madelyn Deutch and Zoey Deutch and after party at The Edison bar in downtown Los Angeles. Q&A sponsored SAG-AFTRA diversity division.
Hollywood Reporter called the film a, "sparky comedy" and, "a smartly fractured fairy tale" which showcases the Deutch duo who, "hold the screen with charm and intelligence to spare." Synopsis: Izzy Klein is drowning in her post-college, pre-real-world millennialitis. With no cure in sight, no proper life plan, and her much more together little sister as her north star - she sets out on a year's journey of some not so romantic romances with five less than spectacular men. And along her path she discovers that you must face your past, to embrace your future.
On Friday, Oct. 20, Sony Pictures Entertainment sponsors a sneak preview screening of, "Novitiate" a Sony Pictures Classics release drama directed by Margaret Betts and starring Margaret Qualley and Oscar-winner Melissa Leo, will be shown at 7 pm. Betts was this year's Special Jury Prize winner as Breakthrough Director at the Sundance Film Festival. There will be after party at the Birds and Bee lounge in downtown Los Angeles.
IndieWire reviewer Kate Erbland called the film "revelatory" saying the film, "...is filled with superior performances, but Qualley is its revelation." It opens theatrically on October 27, 2017.
For tickets to the LA Femme Int Film Festival Oct 19-22, 2017 at Regal Cinemas LA LIVE;1000 W Olympic Blvd 90015; screening 100 films, 5 educational seminars, mixers and events, http://www.lafemme.org. Sponsors: SAG-AFTRA EEO & Diversity , (WGA) Writers Guild America West Women's Committee, The Governor's Office of Film and Entertainment State of Florida, CBS Entertainment Diversity, Sony Pictures Entertainment, Dollhouse Makeup, Columbia College Hollywood, and Creative Handbooks.
For more information about the films or to schedule interviews, please contact Deborah Gilels at LA Media Consultants at 818-758-6509.