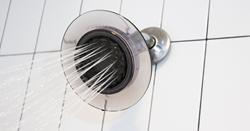 Everyone needs a little affordable luxury in their life.
New Castle, Delaware (PRWEB) October 19, 2017
Renovating your bathroom? Or just looking for a new type of showerhead? The Speakman Company is hosting the first ever tent sale in its 150_year history on Saturday, October 21 from 9 a.m. to 2 p.m. at the Twin Spans Business Park, located at 400 Anchor Mill Road, New Castle, Delaware. The sale is not available online.
Speakman, a Delaware-based company since 1869, engineers a full line of premium bath, plumbing and safety products for the hospitality, commercial and residential industries.
"We are excited to share our first ever tent sale with the Delaware community, and delighted to offer customers deep discounts on our existing products," said Kristen Barclay, Vice President of Product and Marketing. "Everyone needs a little affordable luxury in their life. We are marking down showerheads, faucets, towel bars and more up to 90% to make room in our warehouse for what's coming in 2018."
Whether it's a home renovation or a DIY upgrade for the bathroom or kitchen, Speakman has a wide collection of stylish and durable plumbing fixtures. The company crafts premiere fashion plumbing products, showerheads, commercial plumbing products, and safety eyewash and emergency equipment.
For the full line of products, visit http://www.speakman.com. Water as it was intended to be experienced.