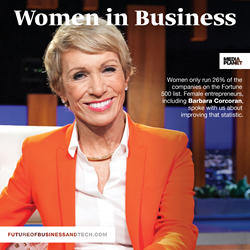 "I realized that by starting my own company, I could be the boss, and that changed everything," Corcoran says. "I built an amazing sales management team composed entirely of capable women."
NEW YORK (PRWEB) October 18, 2017
Mediaplanet announces this September's edition of "Women in Business," launching on American Business Women's Day. This campaign will advocate for women in a variety of different industries to be supported and promoted in the workplace. It also strives to increase awareness of the companies and organizations that are at the forefront of gender equality.
Although women hold almost 52 percent of all professional-level jobs, women lag substantially behind men when it comes to their representation in leadership positions. In terms of the overall S&P 500 labor force, women are only 25 percent of executive- and senior-level officials and managers, hold only 20 percent of board seats and are only 6 percent of CEOs.
The print component of "Women in Business" is distributed inside today's edition of USA Today in New York, Los Angeles, Chicago, San Francisco, Las Vegas, Washington DC and Baltimore, with a circulation of approximately 250,000 copies and an estimated readership of 750,000. The digital component is distributed nationally through a vast social media strategy and across a network of top news sites and partner outlets. To explore the digital version of the campaign, click here.
"Shark Tank" star and businesswoman Barbara Corcoran graces the cover of the print publication. Through an exclusive interview on the interior, Corcoran reveals how her early experience of being a woman in a male-dominated field led to the way she currently manages her companies. "I realized that by starting my own company, I could be the boss, and that changed everything," Corcoran says. "I built an amazing sales management team composed entirely of capable women."
Another "Shark Tank" star and entrepreneur, Lori Greiner, also shares her advice for women in the business world. "Be confident and strong about what you know and what you need," she says. "Confidence is contagious. If you believe in yourself, others will too."
This campaign was made possible with the support of Barbara Corcoran, Lori Greiner, Randi Zuckerberg, National Association of Women Business Owners, The National Association of Women MBAs, National Association for Female Executives, Harvard Business School, Kellogg School of Management, INSEAD, The Princeton Review, HSBC, Committee of 200, Small Business Administration, StartingBloc, BlackLine, Henry Schein, Benco, TIBCO Software, Kabbage and more.