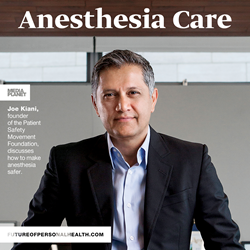 "Anesthesiologists have taken on a leadership role in advocating for patient safety, and their efforts have produced remarkable results."
New York, NY (PRWEB) October 18, 2017
Mediaplanet announces the launch of this September's edition of "Anesthesia Care." This campaign will provide anesthesia professionals, as well as patients and those who are interested, with valuable industry information from thought leaders and influencers.
Anesthesiologists, Nurse Anesthetists and other specialists are the faces behind the medical practice—they prep patients for surgery, childbirth and other procedures, and their job doesn't end there. They are also trained in post-operative treatment to help with pain management. And the industry's only growing. The job outlook is expected to grow 18 percent by 2022, so this campaign will take a deep dive into modern anesthesia and how it can — and should — grow and evolve.
The print component of "Anesthesia Care" is distributed within today's edition of USA Today in Boston, Chicago, Los Angeles and New York markets, with an approximate circulation of 250,000 copies and an estimated readership of 750,000. The digital component is distributed nationally through social media, a network of top news sites and partner outlets. To explore the digital version of the campaign, click here.
A key theme within the campaign is the need to enhance safety procedures before, during and after surgery. As the CEO of Masimo and founder of the Patient Safety Movement Foundation, Joe Kiani, says, "Anesthesiologists have taken on a leadership role in advocating for patient safety, and their efforts have produced remarkable results."
This campaign was made possible through the support of the American Association of Nurse Anesthetists (AANA), Central Connecticut State University, Patient Safety Movement Foundation, Sanovas, Society for Ambulatory Anesthesia (SAMBA), Sterling Anesthesia, University of Cincinnati and Zimmer Biomet.
About Mediaplanet 
Mediaplanet specializes in the creation of content marketing campaigns covering a variety of industries. We tell meaningful stories that educate our audience and position our clients as solution providers. Our unique ability to pair the right leaders with the right readers, through the right platforms, has made Mediaplanet a global content marketing powerhouse. Our award-winning stories have won the hearts of countless readers while serving as a valuable platform for brands and their missions. Just call us storytellers with a purpose. Please visit http://www.mediaplanet.com for more on who we are and what we do.