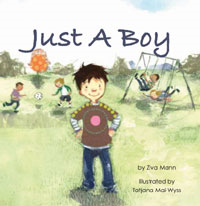 The only option was for him to imagine himself bigger, fiercer and stronger than any pain. And maybe, even, to laugh at it.
Georgetown, MA (PRWEB) October 20, 2017
LA Kelley Communications, Inc. announced today that it has reprinted its book "Just a Boy" by author Ziva Mann. Mother of a child with hemophilia, Mann wrote the story to help her own son cope with the fear and pain of repeated needlesticks. Hemophilia is a genetic bleeding disorder that is treated by infusing blood-clotting medication directly into the bloodstream.
Just a Boy is a whimsical storybook for children ages 3-6 about an imaginative child with hemophilia who learns to control his pain as he transitions from needlesticks with numbing cream to needlesticks without numbing cream. Guided by loving suggestions from his mother, the boy tries different pain control techniques while imagining he is different things—a lion or the wind—until he conquers his fears, regains some control of the process, and learns how to accept and manage the pinch of a needle.
Mann comments, "Just A Boy is based on a true story. When my oldest son was young, he realized that he was tired of having hemophilia. In particular, he resented getting needles stuck in him. He would roar and complain and argue —and who could blame him? But there was no way that we could get his medicine into him without a needle. The only thing he could change was whether or not we used medicated cream to make his skin numb. He loved this idea but, without the numbing cream, wouldn't the needle hurt? The only option was for him to imagine himself bigger, fiercer and stronger than any pain. And maybe, even, to laugh at it."
Parents can read "Just a Boy" to their children with hemophilia or any disorder or disease that involves needlesticks, to help them use their imagination to conquer the fear and pain of the needlestick. The delightful illustrations are by artist Tatjana Mai-Wyss.
The book is available through LA Kelley Communications, free to parents. It can be ordered through http://www.kelleycom.com free of charge, and is also available from Amazon for $2.99 as an eBook. The book is sponsored by Shire, maker of several therapies for hemophilia.
About LA Kelley Communications, Inc.
Founded in 1990, LA Kelley Communications has been a world leader of groundbreaking patient educational materials and programs on hemophilia and related bleeding disorders. With more than a dozen books, numerous publications, and the oldest hemophilia newsletter in America, LA Kelley Communications remains a trusted source of practical parenting and consumer information about bleeding disorders. The company also donates millions of dollars worth of blood-clotting medicine to patients and clinics in developing countries as part of its humanitarian program, Project SHARE. For more information, please visit http://www.kelleycom.com.
Hemophilia
Hemophilia is an inherited blood-clotting disorder in which excessive and prolonged bleeding occurs because of the absence or abnormality of one of 13 clotting proteins called clotting factors. Hemophilia A, a deficiency in factor VIII, also called classic hemophilia, accounts for about 80% of all people with hemophilia. Hemophilia B, a deficiency in factor IX, also known as Christmas disease, accounts for about 15% of all cases. One-third of all new cases are spontaneous, with no known family history. Untreated bleeding can cause extreme pain, joint deformities, and even death. The incidence of hemophilia A is approximately 1 in 5,000 male births. There are an estimated 400,000 people with hemophilia worldwide.