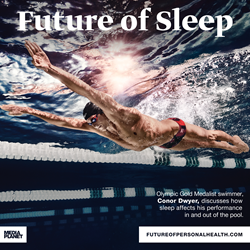 New York, NY (PRWEB) October 18, 2017
As summer ends and many people are getting back to their normal work and sleep schedules, Mediaplanet announces the launch of this September's edition entitled "Future of Sleep." This campaign will inform and educate readers about the many types of sleep problems, while providing insightful and innovative new ways to combat these irritating issues.
In the United States, 40 million people have a chronic sleep disorder and 62 percent of American adults experience a sleep problem a few nights per week. Sleep apnea and insomnia, among other disorders such as, narcolepsy, restless leg syndrome and more, can have a serious effect on a person's health but can go completely undetected for years. Once an adult has a significant sleep deficit, things like their immune system, critical thinking and overall decision making are impaired, leading to accidents and a decrease in productivity.
The print component of "Future of Sleep" is being distributed within USA Today in the New York, Los Angeles, Boston and Philadelphia markets, with a circulation of approximately 250,000 copies and an estimated readership of 750,000. The digital component is distributed nationally, through a vast social media strategy and across a network of top news sites and partner outlets. To explore the digital version of the campaign, click here.
Olympic gold medalist and competitive swimmer Conor Dwyer, dominates the cover of the print publication and provides Mediaplanet with an exclusive interview discussing how sleep affects him in and out of the pool. Most athletes regard nutrition and training as key components of a great performance, but Dwyer points out that sleep is also a large component to success, "Less sleep equals decreased performance" he states, "It's when I'm sleeping that I'm actually getting faster." Sleepless nights also pose threats to non-athletes too. Recent studies suggest a relationship between sleep deprivation and an increased risk for obesity, heart disease, stroke and some cancers. "I don't think you can be really successful at very much in life without proper sleep" states Dwyer.
This campaign was made possible with the support of the American Academy of Sleep Medicine, Youtheory, American Academy of Dental Sleep Medicine, World Sleep Society, Alpha-Stim, National Center on Sleep Disorders Research, Sleep Research Society, Theravent, Better Sleep Council, Oura, Neuro Water and Nightingale.
About Mediaplanet 
Mediaplanet specializes in the creation of content marketing campaigns covering a variety of industries. We tell meaningful stories that educate our audience and position our clients as solution providers. Our unique ability to pair the right leaders with the right readers, through the right platforms, has made Mediaplanet a global content marketing powerhouse. Our award-winning stories have won the hearts of countless readers while serving as a valuable platform for brands and their missions. Just call us storytellers with a purpose. Please visit http://www.mediaplanet.com for more on who we are and what we do.
Press Contact:
Shelby McNeil
shelby.mcneil(at)mediaplanet(dot)com
(646) 619-3803