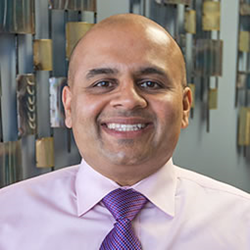 Schaumburg, IL (PRWEB) October 24, 2017
A local and highly respected Schaumburg, IL, dentist, Dr. Jig Patel, has returned from a three-day mission trip to the Dominican Republic. In an exclusive Santo Domingo facility, along with more than 40 colleagues from around the country, Dr. Patel spent up to 12 hours each day performing complimentary sinus lift and ridge split surgeries on disadvantaged patients. At the same time, he helped train up-and-coming dental students on how to use proper surgical methods, and encouraged them to refine their skills in a hands-on setting alongside him.
Dr. Patel regularly performs sinus lift surgery procedures and ridge splits on patients who have limited bone density but want the advantages of single or multiple dental implants or implant-supported appliances. Using state-of-the-art instruments and computer-aided modalities, Dr. Patel adds bone material to the jawbone under the sinuses or in the bottom of the mouth. Sinus lifts and ridge splits are necessary when the bone deteriorates due to gum disease or tooth loss, and is common preparatory work for implant surgery. In the area of the Dominican Republic where Dr. Patel volunteered his expertise, many people go without access to these types of life- and health-improvement options.
The Dominican Republic mission trip was arranged by Dr. Arun Garg, a well-known leader in the latest implant dentistry technologies and training. Through Dr. Garg's continuing education courses, he educates seasoned dentists like Dr. Patel and emerging dental professionals on evolving procedures to properly prepare patients for dental implant placements. Additionally, Dr. Garg uses his organization's mission trips to give dentists such as Dr. Patel the opportunity to give back to Santo Domingo residents in need of complimentary, quality healthcare.
Those in need of a qualified dentist in Schaumberg, IL can visit Dr. Patel for a full spectrum of dental implant options including sinus lift and ridge split procedures at his practice, Schaumberg Dental Studio. Interested patients should contact his team at 847-348-8673 to schedule an appointment to discuss his services.
About the Doctor
Schaumburg Dental Studio is a general and cosmetic dental practice offering personalized dental care to patients in Schaumburg, IL since 2004. With nearly 20 years of experience, Dr. Jig Patel provides cutting-edge care including dental implants, laser gum disease therapy, orthodontics and cosmetic dentistry treatments. Dedicated to his patients, he frequently participates in community charities including the Dentistry from the Heart Program each year. A patient-centered office, the entire team at Schaumburg Dental Studio strives to offer leading-edge treatments using the latest technology while also making them affordable for their community. To learn more about Dr. Patel, Schaumburg Dental Studio or the services they offer visit their website at http://www.SchaumburgDentalStudio.com or call 847-348-8673 to schedule a custom consultation.