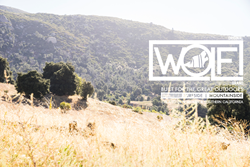 "The Wolf Brand will be far different from what was created for the Big Black brand. We're going to offer something new and unique to the action sports / outdoors industry. Quality is KEY for the brand itself and designed to be able to withstand a very active lifestyle." -Nilo Jones
OAKLEY, Calif. (PRWEB) October 24, 2017
Richard Pimental and Josh Williams of California's Bay Area hired San Diego, CA based action sports design and creative veteran Nilo Jones to assist in the development of Wolf Brand. Jones, served as Chief Operations Officer and Creative Director for Big Black, Inc. (BB / Do Work!), the brand of the late Christopher "Big Black" Boykin of MTV's Rob & Big as well as Rob Dyrdek's Fantasy Factory. "For me, teaming with both Richard and Josh was a no brainer. They sat down with me and expressed their vision of the Wolf Brand and I saw great potential especially with what the brand represented." Jones stated.
"Wolf Brand was born in the land of opportunities. A place where you can do and be anything you want!" said Pimental. "If you grind hard enough, you can make your dream a reality." Wolf, which stands for Where Opportunity Lives Free is a brand created to serve as a statement of one's aggressive lifestyle and to serve as brand to inspire those who wish to achieve greatness.
William's stated, "We are a bad ass / in your face brand that anyone could love! You have to be a leader of YOUR pack, never settle for less!" The brand was also inspired by the beauty of the United State's great land which supplies the core of the brand's athleticism. "What I loved most about the concept of this brand was the fact that it is truly universal," Jones stated, "The US is a giant playground for active people. In Northern California and Southern California alone, we are a short trip to everything. If you want to surf, we have the great Pacific Ocean. If you want to skate, there is plenty of urban areas as well as skateparks. If you want to snowboard during the winter, hike, rock climb, reach the peaks… Big Bear, Mammoth, Yosemite is right there. We literally have it all in one State; Ocean, Mountains, Desert… Its no wonder why people moved here making it home especially Hollywood and music labels."
In the coming months starting Fall '17 through Holiday '18, Wolf Brand plans to launch a full line of apparel from t-shirts to outerwear. For more information about Wolf Brand, visit http://www.originalwolf.com.