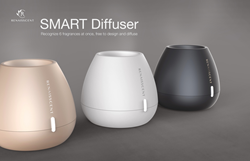 Renaisscent recreates the traditional diffusion experience in a modern way by offering complete control and customization via a mobile app
Taipei, Taiwan (PRWEB) October 18, 2017
Renaisscent launched their first campaign today on Indiegogo for their waterless smart diffuser with a funding goal of $35,000. Renaisscent combines fragrances made of high quality essential oils with smart technology through an application. Renaisscent app users can mix and match a variety of fragrances based on their preferences, remotely control diffusion so that there is a relaxing atmosphere any time and also set aromatic alarms to diffuse at an appointed time, allowing choice fragrances to serve as a reminder that it's time for bed, time to shower and more.
Unlike other diffusers, Renaisscent does not require water or heat. It uses a fan powered by rechargeable batteries able to recharge through via Micro USB and does not require the use of an outlet making for a portable, safer experience.
"Renaisscent recreates the traditional diffusion experience in a modern way by offering complete control and customization via a mobile app," said Founder Alston Wu. "Different aromas help your emotional state in different ways. We offer these benefits for consumers to use in their daily lives, to comfort the body and soul through fragrances, and to make their lives healthier and happier."
The Renaisscent diffuser has the ability to house six fragrances that can be diffused one at a time, two at a time or however the user prefers with the option to diffuse all six at the same time. Applied with the Renaisscent app, the diffuser also has the ability to operate using three different modes to manage fan intensity and range of scent as well as the ability to diffuse for two, four, or six hours.
After switching different fragrance capsules into the Renaisscent machine, the Renaisscent app on a smartphone will automatically show that it has switched to a new capsule within two seconds. It is convenient to switch scents diffusion after diffusing one scent during a period of time. The Renaisscent fragrance capsules consist of four concepts: natural health, relaxation, warmth, and satisfaction. The fragrance capsules are convenient to replace and designed based on a person's average moods in their daily life such as stress, anxiety or exhaustion. Renaisscent helps adjust a person's emotions through the use of different fragrances. For example, lavender to help with feeling restless, and vetier to help with feeling refresh.
Renaisscent is available for early supporters of the campaign on Indiegogo for $119. For more information, visit bit.ly/RenaisscentIndie.
About Renaisscent
Alston Wu and Brenda Wang's concept of Renaisscent is to design high quality fragrances applied with smart technology. They hope to provide positive experiences of conveniently adjusting people's moods and improve health and happiness in their daily activities. For more information about Renaisscent, visit http://www.renais-scent.com.