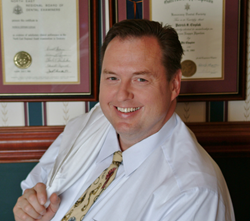 La Plata, MD (PRWEB) October 24, 2017
La Plata, MD, dentist, Dr. Patrick Cieplak, has returned from the 2017 Summit on Advanced Dental Implant Studies held in Atlanta, GA. This fourth annual Summit focuses on the newest, most technologically advanced surgical and prosthetic dental implant treatment protocols. As part of the Summit's mission, attendees are introduced to leading-edge equipment and procedures to enhance treatment predictability and post-treatment dental implant patient satisfaction.
The Summit on Advanced Dental Implant Studies features speakers and sessions aimed at developing today's dental leaders such as Dr. Cieplak. Throughout the four-day experience, participants have the opportunity to explore up-and-coming solutions to bring to their patients. Notable speakers at the 2017 Summit included the inventor of the Crestal Window Sinus Grafting Technique, Dr. Samuel Lee, and the founder of Chile's Research Center for Tissue Engineering and Regenerative Medicine, Dr. Nelson Pinto.
Dr. Cieplak's participation at the Summit is complemented by his completion of numerous courses focused on the topic of dental implants. Among these courses' curricula included topics surrounding guided dental implant placement, gum disease treatment, emerging All-on-4® treatment concepts and unique full mouth reconstruction cases. He has also sought advanced education on dental implant placement in the 'aesthetic' zone, meaning implantation of the front, most prominent and visible teeth.
Dental implants have become a standard method for adults and young people to replace missing teeth permanently. Dr. Cieplak regularly utilizes his expertise to assist his patients as they seek to restore their natural function and appearance after a tooth extraction or loss. In addition, he offers a wide variety of other services including general dentistry, gum disease, and cosmetic dentistry treatments.
Patients of all ages seeking a dentist in La Plata, MD, are encouraged to contact Cieplak Dental Excellence at 301-609-9999 and arrange a complimentary consultation with Dr. Cieplak.
About the Doctor
Dr. Patrick Cieplak is a general dentist offering personalized dental care to patients in La Plata, MD. Dr. Cieplak is dedicated to learning the latest dental techniques and has completed hundreds of hours of continuing education courses. Dr. Cieplak is one of only 3,000 dentists to receive the Academy of General Dentistry's Master's Degree and he is a Fellow in the International Congress of Oral Implantology as well as Associate Fellow in the American Academy of Implant Dentistry. Cieplak Dental Excellence strives to offer each patient customized treatment to help them achieve proper oral health. To learn more about Dr. Cieplak, his team or the services they offer, please visit http://www.patcieplakdds.com or call 301-609-9999 to schedule an appointment.