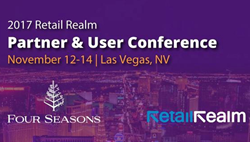 Discover Where Technology Innovation Meets Retail
NAPA, Calif. (PRWEB) October 19, 2017
The 7th annual Retail Realm Partner & User Conference at the Four Seasons in Las Vegas on Nov. 12- 14 will open with the Microsoft Keynote, presented by Microsoft's Principal Group Program Manager, Balaji Balasubramanian. With the Microsoft Keynote sponsored by payment industry leader, Adyen, Microsoft will provide a deep-dive into Microsoft Dynamics 365 for Retail – their recently launched end-to-end retail solution that delivers unified commerce across all channels.
Microsoft's keynote presentation series throughout the 3-day conference will feature both Balasubramanian and Jeff Blucher, Lead Program Manager at Microsoft, to share the product's vision and strategy, overall solution architecture and technical design, key features and functionality, and the product roadmap. Attendees, consisting largely of solution providers, software developers, ISVs, VARs, end users and businesses in the retail and hospitality industries, will also learn about the available integrations and add-ons that extend Microsoft Dynamics 365 for Retail into new markets, verticals and opportunities.
The Microsoft Keynotes topics will be:

Day 1: Microsoft Dynamics 365 for Retail – A Year in Review: Showcasing features and functionality in the new Retail product
Day 2: Microsoft's Vision for Retail – Industry Trends and Intelligent Solutions: Discussing the digital transformation of retail, Microsoft's vision and roadmap, and a sneak peek into next generation functionality
Day 3: Better Together – Microsoft Dynamics 365 New Extensibility Strategy: Learn about the new extensibility model, and see highlights of retail applications
Following the Keynote will be a special presentation by sponsor, Adyen:
"We're excited to sponsor the Retail Realm Partner & User Conference as this is the first time we are sharing details about our new product integration with Microsoft Dynamics AX for Retail," says Robin Gandhi, SVP of Acquiring at Adyen. "This integration is a crucial next step for Adyen's expansion, as it will open doors for retailers to use Adyen's full stack omnichannel payments solution to scale quickly and expand globally."
The Conference will also include an EXPO Hall with featured exhibitors including: AURES Technologies, BlueStar, Sound Payments, Posiflex, Cayan, FoodChain, Transaction Services (TRX), Blue Horseshoe, Worldpay, POS Portal, Adyen, Retail Management Hero, Microsoft Dynamics, Discover Network, RSPA, Confiz, Shift4 Corporation, Ingenico, Vantiv, UniteU, Sterling Payment Technologies, Partner Tech, and other solution providers, payment processors and hardware vendors.
Conference registration: http://www.retailrealmconference.com.
###
Conference Overview:
The Retail Realm Partner & User Conference is an annual global retail technology event that spotlights the latest Microsoft solutions, software developments and innovations, trends and insights, and supportive platforms for small businesses to large-scale enterprises in the retail sector. Conference website: http://www.retailrealmconference.com
About Adyen:
Adyen is the payments platform of choice for the world's leading companies. The only provider of a modern end-to-end infrastructure connecting directly to Visa, MasterCard, and consumers' globally preferred payment methods, Adyen delivers frictionless payments across online, mobile, and in-store. With offices all around the world, Adyen serves more than 4,500 businesses, including 8 of the 10 largest U.S. Internet companies. Customers include Facebook, Uber, Netflix, Spotify, L'Oreal and Burberry.