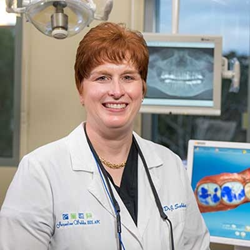 THOUSAND OAKS, Calif. (PRWEB) October 24, 2017
Dentist, Dr. Jacqueline Subka, honors Dental Hygiene Month by raising awareness of the signs and treatments of gum disease, including laser dentistry and bleeding gums in Thousand Oaks, CA. Her goal is to educate people on gum (periodontal) disease, a condition that, according to the Centers for Disease Control and Prevention, affects over half of the adult population in the United States.
Gum disease occurs when bacteria build up in the periodontal pockets between the teeth and gums. This build-up occurs over time, leading to a deepening of the pockets and destruction of soft and hard tissues. In the earliest stage, gingivitis, gum disease can be cured. Later, it can only be managed through regular visits to trained providers such as Dr. Subka.
Symptoms of gum disease at its onset include chronic bad breath (halitosis), bleeding gums, red gums, and irritated gums. In the advanced stages of the condition, the gums usually begin to recede away from the teeth, exposing the tooth root and bone to rapid decay. The teeth may also begin to loosen. Without intervention such as advanced laser gum disease therapy, tooth loss will become inevitable.
Dr. Subka regularly performs laser gum surgery on patients to mitigate problems like irritated gingiva and bleeding gums in Thousand Oaks, CA. Laser gum surgery is the leading minimally invasive way to safely remove bacteria and diseased gum tissue from the periodontal pockets. After laser gum disease therapy, patients' mouths are healthier, more sanitized, and better equipped to fight off the advancement of this harmful disease. According to recent studies, those who choose laser periodontal therapy are also less likely to experience gum disease-linked systemic problems like certain cancers, heart disease, stroke, and diabetes.
Those experiencing signs or symptoms of gum disease including gum recession or bleeding gums in Thousand Oaks, CA are encouraged to receive minimally invasive laser gum therapy as soon as possible. To schedule an appointment with Dr. Subka people can call her office at 805-373-1919 or visit her website, http://www.subkadds.com, for more information.
About the Doctor
Dr. Jacqueline Subka is general dentist offering personalized dental care for patients in Thousand Oaks, CA since 1999. Dr. Subka received her dental degree from the prestigious University of Southern California School of Dentistry in Los Angeles. Dr. Subka practices gentle dentistry and incorporates state-of-the-art techniques to provide leading, minimally invasive care. She and her team are committed to continuing education and strive to provide high-quality, personalized dental care to each patient. To learn more about Dr. Subka and the dental services she provides, visit her website at http://www.subkadds.com or call 805-373-1919.