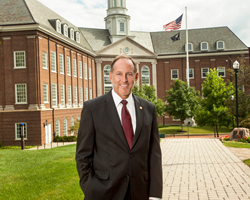 W&J is a great place not only to come and earn a degree, but to live. I'm looking forward to what we can accomplish here together.
WASHINGTON, Pa. (PRWEB) October 19, 2017
Washington & Jefferson College today inaugurated John C. Knapp, Ph.D., as the institution's thirteenth president. Dr. Knapp began his appointment at W&J on Aug. 1, 2017, following the retirement of former W&J President Dr. Tori Haring-Smith in June.
"W&J has a long history of excellence in the liberal arts, evidenced by our established and outstanding academic and extracurricular programs. Dr. Knapp is an insightful and exceptional leader in the field of higher education, and his talents make him an exceptional choice to lead W&J into the future," said Richard T. Clark ('68), chairman of the College's Board of Trustees. "The Board is fully confident that Dr. Knapp will lead W&J to even greater achievements and engage everyone to build toward an even brighter future for the College."
Dr. Knapp's career includes serving as president of Hope College in Holland, Mich., for four years prior to his appointment at W&J. A renowned expert in ethics as well as a seasoned academic, administrator, professor, author, consultant and community leader, Dr. Knapp was founding director of the Frances Marlin Mann Center for Ethics and Leadership at Samford University in Birmingham, Ala. He also established and directed the Center for Ethics and Corporate Responsibility at the J. Mack Robinson College of Business at Georgia State University in Atlanta, Ga.
Additionally, he founded and chaired the Atlanta Diversity Management Network, a project dedicated to sharing best practices among the region's largest employers, including five universities. Prior to his academic career, Dr. Knapp was a successful entrepreneur, trusted advisor and president of a communications consulting firm in Atlanta.
Dr. Knapp earned a Doctor of Philosophy degree in theology and religious studies at the University of Wales, United Kingdom, a Master of Arts degree in theological studies at Columbia Theological Seminary in Decatur, Ga., and a Bachelor of Science degree in urban life with a concentration in communication at Georgia State University.
Of his appointment at W&J, Dr. Knapp said he appreciates W&J's strengths and wants to build on them.
"W&J College enjoys a stellar reputation across the country and around the world. The College has been well-led and has strengths that can be leveraged to make sure it continues to be competitive now and in years to come," he said. "Since arriving in August, my wife, Kelly, and I have experienced a warm welcome and have had the chance to hear from members of the College community about their visions for the future of W&J. From everything we've heard and experienced, W&J is a great place not only to come and earn a degree, but to live. I'm looking forward to what we can accomplish here together."
Commenting on W&J's leadership appointment, Trustee Diana Reed, chair of the W&J Presidential Search Committee, said the search and selection of a college president is perhaps the most important activity a Board of Trustees can undertake, and that in today's challenging academic and economic environments, a college president must be exceptional in many areas of expertise and talent.
"Dr. Knapp's dedication to higher education is evident in many facets of his career. He has maintained a high academic profile at the collegiate institutions he has served, and has been recognized and awarded for his scholarly work. His focus on liberal arts education extends to the values he places on diversity and inclusion, and he has a proven track record of increasing diversity at the institutions he has served, uniting faculty, staff, and students behind a common vision. The Search Committee is thrilled with the outcome of this process, and we believe Dr. Knapp is the right person to lead W&J into the future, while appreciating and supporting the College's strong history and existing programs."
About Washington & Jefferson College
Washington & Jefferson College, located in Washington, Pa., is a selective liberal arts college founded in 1781. Committed to providing each of its students with the highest-quality undergraduate education available, W&J offers a traditional arts and sciences curriculum emphasizing interdisciplinary study and independent study work. For more information about W&J, visit http://www.washjeff.edu, or call 888-W-AND-JAY.