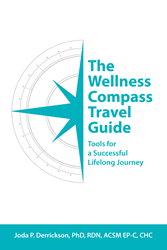 KAILUA, Hawaii (PRWEB) October 23, 2017
A motivational health coach has released her debut guidebook to realizing personal goals and maintaining a balanced lifestyle. In "The Wellness Compass Travel Guide," author Joda P. Derrickson delivers an easy-to-follow, yet robust set of tools that individuals, teachers and wellness professionals can use to improve well-being.
Inspired by a need for more holistic wellness literature, Derrickson's book escorts "wellness travelers" on their lifelong journey to health, fitness and happiness while also allowing room for individual backgrounds, lifestyles and needs. With a user-friendly, digital and documented format, "The Wellness Compass Travel Guide" puts readers in the driver's seat and encourages them to make their own choices and take control of their well-being.
"Wellness is a complex tapestry with threads consisting of our physical, spiritual, socio-emotional and financial well-being as well as our life purpose and fulfillment," Derrickson said. "Most self-help books only address one aspect of wellness and aren't flexible enough to allow or even encourage individual variation. My hope is that readers everywhere will repeatedly refer to the Wellness Compass tools as starting points to successfully accomplish everything from personal development goals, to annual New Year's resolutions, to ultimately sustaining a balanced wellness lifestyle."
A companion to her book, Derrickson's website and blog offers free, accessible and interactive activities, resources and tools, such as a wellness checklist and wellness profile, to further assess and facilitate her readers' journeys to lifelong health. To learn more, please visit http://www.wellnesscompasstravelguide.com.
"The Wellness Compass Travel Guide: Tools for a Successful Lifelong Journey"
By Joda P. Derrickson
ISBN: 978-1-5320-1205-1 (paperback); 978-1-5320-1230-3 (electronic)
Available at the iUniverse Online Bookstore, Barnes & Noble and Amazon
About the author
Joda P. Derrickson holds a Ph.D. in nutrition science and is a registered dietitian nutritionist, certified exercise physiologist and certified health coach. With more than 25 years of diverse experience in health coaching, Derrickson is passionate about empowering others to achieve optimal health, wellbeing and fitness. She is also a competitive triathlete and experienced sailor. Derrickson currently resides in Kailua, Hawaii.
###
Review Copies & Interview Requests:
LAVIDGE – Phoenix
Danielle Grobmeier
480-648-7557
dgrobmeier(at)lavidge(dot)com
General Inquiries:
LAVIDGE – Phoenix
Maggie Driver
480-998-2600 x 584
mdriver(at)lavidge(dot)com