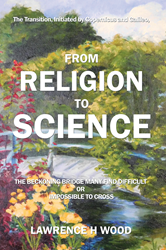 OCEANSIDE, Calif. (PRWEB) October 23, 2017
A physics expert and former scientific product developer has released his comprehensive examination of society's transition from a religious explanation of its conception based on divine causation to a scientific explanation based on the laws of physics, the most momentous sequence of events in human history. In "The Transition, Initiated by Copernicus and Galileo, from Religion to Science," author Lawrence Wood explores the history of religious precedent and scientific revolution and presents his concept of the "beckoning bridge" – a metaphor for humanity's choice to relinquish religious beliefs and embrace scientific discovery.
Throughout his book, Wood, who holds a doctorate in physics, elucidates the formulation of humankind's belief in supernatural causation because of unrecognized illusions, (known as religion.) Wood then demonstrates how scientific investigations, begun approximately 500 years ago, gradually exposed these illusions, resolving them through the development, by some of the world's most brilliant scientists, of the correct explanation of ourselves and our surroundings, (known as science.)
"Unfortunately, many are unable or unwilling to accept these new scientific understandings – thus creating two fundamentally opposed justifications for our creation and continued existence," Wood said.
Developed after years of independent study, Wood's book accounts for the coexistence of two diametrically opposite explanations for the universe's formation and explores how the evolution of scientific law and development of technology, such as the microscope and telescope, ultimately resolved worldly illusions that acted as the bedrock of religious understanding.
"The Transition, Initiated by Copernicus and Galileo, from Religion to Science"
By Lawrence Wood
ISBN: 978-1-5320-2457-3 (paperback); 978-1-5320-2458-0 (electronic)
Available at the iUniverse Online Bookstore, Barnes & Noble and Amazon
About the author
Lawrence Wood spent more than 50 years in scientific product development and holds a doctorate in physics. Wood has devoted his retirement to researching the emergence of two mutually exclusive explanations for the universe's conception: religion and science. He currently resides in Oceanside, Calif. To learn more, please visit http://www.soplar314.com.
Review Copies & Interview Requests:
LAVIDGE – Phoenix
Danielle Grobmeier
480-648-7557
dgrobmeier(at)lavidge.com
General Inquiries:
LAVIDGE – Phoenix
Maggie Driver
480-998-2600 x 584
mdriver(at)lavidge.com