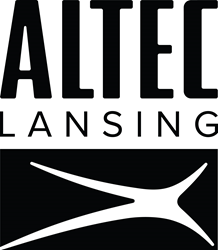 NEW YORK (PRWEB) October 19, 2017
Altec Lansing, innovator in audio, announced today the release of the new Versa Portable Speaker with Alexa! The Versa is both Bluetooth and Wi-Fi so it is perfect for at home or on the go. Now you can simply say "Alexa" to your Versa and control your music, listen to the news, turn on your lights, order a ride and more. Versa is also Waterproof, Snowproof and Dirtproof to fit your active lifestyle.
The Versa Speaker will be able to take advantage of Altec Lansing's new "House Party mode," which allows these speakers to connect via Wi-Fi and/or Bluetooth through the new "Versa Bridge App" (available via iTunes for Apple and Google Play for Android). This new app will allow users to access playlists from apps like Spotify, and then pair with up to 50 speakers at once for true party mode!
With an impressive 8 hours of battery life and IP67 Waterproof, rugged exterior, Versa is built for portability. Tested to withstand water, bumps, dirt and more – the ultra rugged Versa can handle anything that life throws your way. Bring Versa to your next pool party or weekend get-away, without fearing a splash or a surprise snow shower.
With Amazon Alexa connectivity and Far-Field voice technology, the Versa Speaker is compatible with Spotify, Pandora, Amazon Music, Tunein, Uber, Nest and more. The Versa Speaker is coming soon at a MSRP of $129.99.
Product features include:
Amazon Alexa Enabled
Multi-room Pairing: Pair multiple speakers together throughout the house
Compatible Apps: Spotify, Pandora, Amazon Music, Tunein, Uber, Nest and many more!
Battery Life: Up to 8 hours of play time
IP67 Waterproof Rating Waterproof, Snowproof and Dirtproof
Impressive Immersive Sound
2" Woofer x 2 Ferrite Magnet
85 x 45mm Passive Radiator
DSP Enhanced Sound and App Control
Portable with AC Power
Altec Lansing's iconic audio products include sleek wireless systems that go where you go, regardless of the elements, and ultra-durable Everything-Proof speakers. All members of the Everything-Proof speaker line can handle whatever life, or the party, throws at them, with an Ingress Protection (IP) 67 rating certifying they're waterproof, shockproof and snowproof. In addition to withstanding the elements, the speakers boast powerful Bluetooth sound and a long life with a lithium ion battery.
For more information visit http://www.alteclansing.com
About Altec Lansing
Since 1927, generations of music enthusiasts have recognized Altec Lansing as a premier brand that consistently delivers high quality and rich sound in a host of audio products including; headphones, earphones, everything-proof speakers, home and car audio, DJ speakers, turntables, mobile accessories, and more. Altec Lansing provides a seamless combination of beautiful design aesthetics and terrific sound to exceed every audiophile's expectations. Those who know audio, know Altec Lansing.
http://www.alteclansing.com l @alteclansingofficial
For more information, please contact:
Ashley Willis, Resound Marketing for Altec Lansing
ashley(at)resoundmarketing.com / O: 609.279.0050x105 / C: 732.500.2735