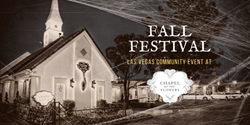 Chapel of the Flowers, known for hosting elegant and upscale weddings year-round, is hosting a family-friendly fall festival and everyone in Las Vegas is invited.
Las Vegas, Nevada (PRWEB) October 20, 2017
Families looking for a safe and fun way to celebrate fall and Halloween are in for a treat later this month. Chapel of the Flowers, known for hosting elegant and upscale weddings year-round at their one acre property near the Stratosphere, is hosting a Fall Festival, and everyone in Las Vegas is invited.
This event will feature a haunted house filled with friendly witches, ghosts and goblins for all ages, a costume contest, thrilling carnival games, prizes for the kids, face painting, food and music. Entrance to the fall festival is free, and tickets for the haunted house, carnival games, food and other fall festivities will be available for purchase at the door, with all proceeds going to two local children's charities.
However, Chapel of the Flowers has a surprise treat for guests who bring a new toy, game, book or other children's gift to the Fall Festival: free tickets to enjoy the activities! Each guest who brings a new, unwrapped toy will receive free tickets based on the value of the toy. All toys collected will be donated to 98.5 KLUC and will give the radio station an early start on their annual holiday Toy Drive. (Suggested minimum value of toy donation is $10, and toys should be new and in original packaging. A donation of a new coloring book and crayons, for example, would receive two free tickets. A new Barbie doll or remote-controlled car would receive 10-20 tickets.)
The Fall Festival takes place from 4pm - 9pm at Chapel of the Flowers, 1717 Las Vegas Blvd. South, in downtown Las Vegas. Costume contest starts at 7pm. Tickets will be available for purchase at the door and priced as follows:
1 TICKET = $1.00
10 TICKETS = $10.00
20 TICKETS = $15.00
40 TICKETS = $20.00
Vendors of Chapel of the Flowers are invited to join this Fall Festival event. There is no fee for space rental, but vendors will be asked to donate time as volunteers and provide carnival-related services for this community festival. Interested sponsors/vendors should call 702-735-4331 for more information.
Come join us at Chapel of the Flowers for a spook-tacular time at the family-friendly Fall Festival and haunted house!
About Chapel of the Flowers 
Chapel of the Flowers, located at 1717 Las Vegas Boulevard South, has been celebrating love for nearly 60 years. The stunning indoor and outdoor chapels seat between 20 and 88 guests.
Founded in 1960, Chapel of the Flowers is Las Vegas' highest rated and largest full-service wedding venue, providing traditional, modern and elegant Las Vegas weddings on the world-famous Strip. Nearly an acre of cobblestone-accented grounds and vibrant backdrops are designed to capture every picture-perfect moment of a Las Vegas wedding. Professional wedding planners ensure that every aspect of the wedding day is personal, easy and stress-free. Chapel of the Flowers' impeccable customer service assures the couple that all details of the wedding, including the ceremony, flowers, award-winning photography and reception venues will result in cherished memories for a lifetime. Chapel of the Flowers is honored to be one of the preferred venues in Las Vegas, the wedding capital of the world.
The one acre wedding venue near SLS and Stratosphere resorts received the coveted TripAdvisor 2017 Certificate of Excellence, the third year in a row Chapel of the Flowers has earned this prestigious award. Chapel of the Flowers is approaching 1,800 reviews on TripAdvisor, with nearly 1,500 users rating Chapel of the Flowers "excellent," more than any other chapel in Las Vegas. The venue also is listed as one of the top 20 places to see in Las Vegas.
MEDIA: Please contact Jose Alonzo or Diane Ferraro by 12 noon October 30 to reserve parking space for station van/satellite truck. We will be delighted to make accommodations for your live broadcasts, have a staff employee co-host weather reports from the festival, and set up news segments and interviews with festival guests and adorable children in costumes.
Media Contacts 
Jose Alonzo
Sales Manager, Chapel of the Flowers
Email: media (at) littlechapel.com
Phone: 702 735-4331
Diane Ferraro
Email: diane (at) thesoulfulexperience.com
Phone: 626-222-9388