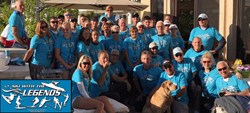 POLK CITY, Fla. (PRWEB) October 19, 2017
The event shatters the existing Legends fundraising record of $20,000 collected from three locations in 2015. This was one event over the weekend! When we put our sport's great Legends to work for a good cause, they don't disappoint- on or off the water.
The Legends West event, held in beautiful Discovery Bay, California, brought together skiers and riders in 3-event skiing, barefooting, ski racing, wake boarding, wake surfing, free skiing and adaptive skiing. USA-WWF board member and 2002 Hall of Famer Mike Avila, who hosted the event, was pleased with the outcome and says plans are already being made to make the event bigger in the future.
"The event I think was great! I think it had its first-year issues but really great overall," Said Avila. "We made lots of friends, memories and money for USA-WWF. We had more than 85% of the participant's trying other disciplines' and had a ball doing so. The message of the weekend was "Inspiration" and what inspired those to reach the highest level in the sport. That message was heard loud and clear with many of the participants telling me that even the drive to get everyone together and share our great sport was an inspiration to them. This event will grow to be "The Event" to attend over the next few years. I spoke to everyone and committed to making this not just better -but five times better for next year. I am making changes for next year already."
The action packed weekend included around 100 participants who had the opportunity to learn from the legends and spend the day with their water ski heroes. This year's event kicked off on Friday with a charity golf event at the Discovery Bay Country Club.
Wakeboarding Hall of Fame Board Member and Legend Tony Klarich said "Wow, Ski with the Legends had everything one could hope for in a gathering of water sports enthusiasts. Participants got to try so many new things from freeboarding to barefooting to wakesurfing and skiing the course. Every moment was a new experience to share with lifelong friends and people we just met."
On Saturday skiers and riders had the chance to get on the water with the legends as they coached, shared their advice, strategies and tricks that helped make them the best of the best. USA-WWF board member Teri Larson-Jones said the multiple disciplines took the event to a new level. "Giving skiers the opportunity to try a variety of water related activities added an exciting new dimension to this event and we had the perfect body of water to make it happen. Seven slalom skiers crossed over and tried barefooting for the first time! Having water time with skiers from other waterski disciplines made this event incredibly special."
"Our legends are incredible," said USA-WWF Executive Director Tracy Mattes. "I can't say enough about them, volunteering their time, skills and resources to this program. They are true champions and role models for everyone in the sport. We are thrilled that this program, which started as a small fundraiser has grown, in just a few years, into one of the premier fundraisers of the year for the Foundation. I couldn't be prouder of our host Mike Avila and all of our legends."
"Attendees came from all over the west coast including Washington, California, Nevada and Arizona," said USA-WWF Board member and Hall of Fame Award of Distinction-member Lance Renfrow. "Several disciplines were run simultaneously with legends including Carl Roberge, Mike Suyderhoud, Willie Farrell, Mike Avila, Martie Wells, Tony Klarich, Scott Pellaton and a host of others. In addition to exposing new people to the sport, we raised $35,000 which goes to scholarships and our Foundation programs."
The Ski with the Legends fundraising event benefits the USA Water Ski Foundation programs which include water ski scholarships for college athletes, athlete, equipment & club grants, the Hall of Fame, Water Ski Museum and programs designed to grow and promote the sport.