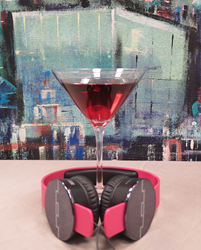 "It would be easy to give up when a patent can take so long, but I believed in the process and I'm thrilled that we were granted patent protection. We've already begun our next phase of testing - using overhead sound systems directly in restaurants," said Werner innovator of Musical Pairing
NEW YORK (PRWEB) October 23, 2017
Musical Pairing®, now a patented method, elevates dining by correlating music and food using a simple mathematical formula. The pairing is accomplished by assigning a numerical value to specific components of food and/or beverages, then allocating a musical piece of equal value to that food. This information is then transmitted via computer or device. Chef and author Barbara Werner formulated this methodology to help individuals elevate their dining experience.
In the method of Musical Pairing, music is matched with food/beverages based on specific attributes (values). Food is valued first, followed by beverages and lastly, the music. In essence, foods are given a "weight" based on protein, sauce, cooking method and perception of spice. This is matched to music of equal weight based on tempo, genre, frequency, primary instrument and amplitude. The proper matching is used to create a positive effect upon the perception of flavors of the food and drinks. This data is entered into a device to provide the music paired to the specific food, maintaining a desired level of taste. This includes the interface, protocol, and support for interconnecting the musical pairing system to a computing platform.
Ms. Werner and her team are using this methodology to run testing using overhead sound systems in restaurants. Research trials have already begun in local restaurants in New York, including Abigaels on Broadway.
Using research parameters recommended by Christopher Currie, Ph.D. and in cooperation with Robert M. Bernstein, M.D., test-dinners were held in five states across America with subject diners unaware they were taking part in a research experiment to avoid pre-conceived opinion. The results have been peer reviewed and recently published in the Advances in Nutrition and Food Technology Journal.
Barron's 16 March 2016 - Musical Pairing® has completed dinners from San Francisco to New York using their mathematical technique to match music with food via a formula . . .
Fodors - Top 10 Can't Miss Pop Up Restaurants 2015 . . .
About Musical Pairing & Its Founder
Barbara Werner is a classically trained chef and mother, who was raised by a long line of Italian cooks and food lovers. Discovering the correlation between food and music while dining alone, she has been able to apply this formula to two things she enjoys, to elevate the dining experience for all willing to try. She teaches epicures how to "elevate a good dish to greatness and great dish to near perfection." For more information and inquiries, email Barbara(at)musicalpairing(dot)com.