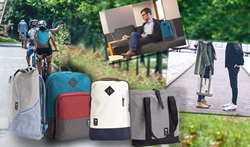 NEW YORK (PRWEB) October 20, 2017
Say goodbye to compromising fashion for functionality. Bago made it possible for moms, young professionals, college students and world travelers to have a backpack bag that expresses their personality and meets their individual needs without breaking the bank.
Made from premium materials, Bago Fashion Backpacks are available in four unique designs; The Adventurer, The Gypsy, The Smooth Operator and The Wunderkind.
Each design focuses on an individual's needs. You no longer have to deal with the traditional vertical backpack with two pockets to fill each situation. Bago bags cater to the needs of professionals, students and travelers, while still being the go-to option for men and women of all ages looking for a lightweight backpack.
The Adventurer is a backpack that can be rolled up or expanded to meet anyone's needs. Designed for an active lifestyle, with its 20 liter capacity The Adventurer is large enough to pack anything you need in one functional rucksack. It has shoulder traps and padded back for added ease and convenience, making it a must have travel backpack.
The Gypsy is loved by girls, teenagers and women of all ages. The timeless canvas day bag can be used for shopping, a vacation or a trip to the beach. The 11 liter travel daypack also comes with a magnetic snap closure strap.
The Smooth Operator is a box-type backpack that can instantly transform from a shoulder backpack into a briefcase. It has top and side padded handles to allow anyone to comfortably carry it, making 22 liter capacity bag the go-to travel daypack for men and women.
With a 23 liter capacity, The Wunderkind is a daypack backpack designed for comfort. The adjustable shoulder straps and padded back make it ideal for students, campers, digital nomads and anyone with an active lifestyle. This is the next generation school backpack.
People who already have their hands on the backpack say, "It's perfect for cycling or walking."
Bago is able to provide high quality backpack bags to people without asking them to overspend. One customer said they are "Very satisfied with the product."
Bago Fashion Backpacks are sold at several places online, including Amazon, eBay and Bago's website.
For more information on the Bago Fashion Backpacks go to Bago Travel Bags on Amazon.com
So Bag, Go & Enjoy!
Bago Travel Bags
+1-347-759-6030
Contact(at)bagotravelbags(dot)com