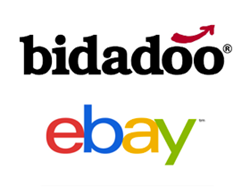 We see incredible opportunity in our partnership with bidadoo
Seattle, Washington (PRWEB) October 19, 2017
As the largest Business and Industrial seller on one of the world's largest online marketplaces, bidadoo has been awarded eBay's Top Seller award - in recognition for their rapid growth, pioneering technology, strategic partnerships, and trusted brand.
Since bidadoo's founding 14 years ago, it has been a trusted eBay partner. During this time, bidadoo has become eBay's top seller in the strategic Business & Industrial segment. This segment serves small and medium sized businesses (SMBs) with equipment and industrial products.
Connecting with eBay's global community of over 168 million active buyers, bidadoo holds trusted, weekly online auctions with a diverse, global buyer base. With over 15,500 active bidders this year from 192 countries, bidadoo's auction attendees are able to efficiently bid on quality equipment from some of world's largest fleet and equipment owners, such as Herc Rentals (Formerly Hertz Equipment Rentals), Sunbelt Rentals, The Boeing Company, H&E Equipment Services, and JCB. eBay has tremendous global reach for equipment owners, including:

168 million active global buyers
380 million eBay apps downloaded to mobile phones and devices
61% of transactions touched by Mobile
"We are excited to be recognized by our trusted partner - eBay. We share a similar DNA and drive to transform the equipment buying experience to one that's trusted, transparent, and highly efficient for both buyers and sellers. In becoming the largest and most trusted online auction service on the world's online auction platform, bidadoo continues to serve our sellers by providing them more options, more views per item, more 'watchers', more bidders, more efficiency, and more trust - when compared to any other auction company. Over the past year the industrial auction market has changed dramatically, making bidadoo the only national online-only auction company. With our capabilities, recent market consolidation, and eBay's investment into the online equipment marketplace, we see tremendous opportunity to rapidly scale our business to better serve our sellers and our buyers across the world" says Howard Hawk, bidadoo President.
bidadoo was awarded the Top Seller award during the October eBay Top Seller Summit at eBay headquarters in San Jose, California. "We see incredible opportunity in our partnership with bidadoo and are excited to build on the 14-year history and collaboration with eBay. We look forward to continuing to invest in this strategic area and see bidadoo as our key partner to continue to bring some of the largest equipment and fleet companies to the eBay platform, and help make eBay top-of-mind for global equipment buyers," says Pooja Piyaratna, General Manager of Business & Industrial at eBay.
If you're interested in viewing the full catalog of items available in this week's auction, please go to http://www.bidadoo.com/auctions.
About bidadoo
bidadoo is the largest and most trusted business and industrial auction service on the world's largest online auction marketplace - eBay. bidadoo works with leading equipment companies to remarket used equipment, trucks, and capital assets. For over 14 years bidadoo has been a trusted source of heavy equipment and trucks around the world. Our weekly online auctions feature trusted, quality equipment from some of the world's largest equipment manufacturers, dealers, fleet and equipment owners, contractors, and government agencies. Check out our weekly online auctions at http://www.bidadoo.com.
About eBay
eBay Inc. is a global commerce leader including the Marketplace, StubHub and Classifieds platforms. Collectively, we connect millions of buyers and sellers around the world, empowering people and creating opportunity through Connected Commerce. Founded in 1995 in San Jose, Calif., eBay is one of the world's largest and most vibrant marketplaces for discovering great value and unique selection. In 2016, eBay enabled $84 billion of gross merchandise volume. For more information about the company and its global portfolio of online brands, visit http://www.ebayinc.com.