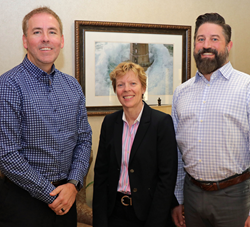 Janet will be the liaison between day-to-day and long-term operations to help ensure we have the right systems and resources in place at every stage of our growth plan
MINNEAPOLIS, MN (PRWEB) October 19, 2017
New Perspective Senior Living announced today that it has hired Janet Lillevold as Senior Vice President, Transformation Office. In her new role Lillevold will be primarily responsible for facilitation and execution of transformative projects across the organization to support the company's long-term growth objectives. New Perspective currently provides independent living, assisted living and memory care to over 2,000 seniors and has stated that one of its goals is to serve more than 10,000 seniors by 2025.
"We've set aggressive growth goals, but we're doing it thoughtfully and strategically. The addition of Janet allows us to increase the working metabolism of the company, creates a single source of information exchange (supported by extensive collaboration) and reinforces the change management objectives," stated, Ryan Novaczyk, New Perspective Senior Living President & CFO.
"Janet will be the liaison between day-to-day and long-term operations to help ensure we have the right systems and resources in place at every stage of our growth plan," noted Chris Hyatt, New Perspective Senior Living Chief Operating Officer.
Lillevold has 30-plus years of experience in services, operations, program management, technology and change management. Throughout the course of her career she has worked in a variety of industries, including healthcare, pharmaceuticals and both medical and agricultural software and technology. From 2007 to 2014 Lillevold served as SVP, Operations & Client Services for Cargill Feed Management Systems business unit, including serving as acting president for six months. Other past roles include: VP, Service Operations for Intelligere; VP, Operations and Client Services for Three Wire, Inc.; and Director of Business Governance & Project Management for Medica.
"New Perspective allows me to combine my professional skills with a personal passion," explained Lillevold regarding her decision to join New Perspective. "Both my mother and mother-in-law suffered from Alzheimer's disease. The commitment New Perspective has toward helping others fighting this unforgiving disease was integral to my decision. I wanted to know that every hour and every day that I was giving back and having a really positive impact on a person's life. This is a wonderful fit."
Lillevold earned her MBA in Management & Organizational Behavior from New York University, New York, a Master of Science in Technical and Science Communication from Drexel University, Philadelphia, and a Bachelor of Science degree in Biology from the University of Michigan, Ann Arbor. She currently serves on the Minnesota Autism Center board of directors, as well as the St. Bartholomew stewardship and financial review board. In addition, she's a Boy Scout leader and a volunteer for Siberian Husky Rescue.
Lillevold is one of several new high-level additions to the New Perspective Senior Living senior leadership team. Most recently, in January of this year, the company hired former Brookdale executive, Chris Hyatt as its Chief Operating Officer.
About New Perspective Senior Living
Founded in 1998, New Perspective Senior Living (NPSL) is a family owned company that develops, owns and operates vibrant senior living communities in Minnesota, North Dakota, Wisconsin and Illinois. Its foundational belief — that all seniors deserve to Live Life on Purpose® and age with dignity — was forged from the personal experience of Founder and CEO Todd Novaczyk and his family. For seven years, they cared for his mother-in-law, Betty Berkeley in their home as she struggled to maintain her strong, independent spirit while coping with Alzheimer's disease.
Today, New Perspective Senior Living operates 23 senior communities serving over 2,000 seniors through Independent Living, Assisted Living and Memory Care options, with a goal to be serving 10,000 seniors by 2025. Based in Eden Prairie, Minn., the company has won multiple awards including Top Assisted Living Facility, Best-of-the-Best Dining Experience and Top Workplaces. In addition, Todd Novaczyk, was recently profiled in the Senior Housing News, The Leadership Series, while Ryan Novaczyk was just named to 50 for the Next 50 by LeadingAge of Minnesota