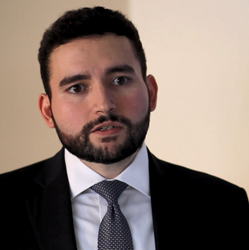 Long term success in the financial services and fintech industries now require significant investments in responsible and sustainable products that won't compromise on efficiency, security and regulation.
(PRWEB UK) 20 October 2017
Fintech companies seem to be charting new paths for digital innovation in the financial services industry, and as a result potentially threatening the future of the traditional banking model. The market is becoming increasingly congested with companies embedding automation and artificial intelligence into their services and processes, thus eliminating the natural human interaction. However, Luis Rivera, COO of Pilatus Bank believes this disruption is not necessarily the kind of disruption that is healthy for an industry that is supposed to be focused on responsibly managing money.
Whereas some artificial intelligence technologies, such as chatbots and robo-advisory tools, have been developed to provide customized, yet automated advice and to analyse data, it is uncertain whether these propositions can/are being delivered in compliance with the same rigorous risk-based approach needed for businesses aiming to operate in the financial services industry. Consequently, Rivera of Pilatus Bank believes that the market is calling out for modern products and services that not only promote digital innovation whilst preserving human interaction, but also eliminate risks and promote compliance.
Although the financial services industry is inherently conservative, the rapid advancements in digital and mobile technologies have caused an influx of new companies (as well as the high-street giants) to compete in a race to release the latest and greatest technology/feature/product that will define them as leading market disruptor. Many financial institutions mimic the fintech innovators by enhancing their mobile and web applications with new fintech-like solutions and features, but banking goes beyond solely meeting a customer's digital experience requirement. Banking and payments require a strong focus on holistic risk management – and not just IT or cyber risk management. Unfortunately, this pressure to change often leads to companies investing in products that compromise on effectiveness and security, and don't fit efficiently into the business models and system architectures designed decades ago. These investments often result in short term growth but long term lacklustre performance.
Luis Rivera of Pilatus Bank believes that the Fintech industry needs to focus on sustainable growth, hence continue to invest in lean technologies, but also adopt and design best practices focused on managing financial risks to customers. He states, "Long term success in the financial services and fintech industries now require significant investments in responsible and sustainable products that won't compromise on efficiency, security and regulation. Risk management must be part of the equation. Of the countless fintech products, services and solutions currently available on the market, prudential risk is very rarely addressed – in some cases outright excluded. Responsible innovation is a key concept that all Fintech companies should adhere to best support their clients. In fact, it is our fiduciary responsibility to do so."
Pilatus Bank has developed their proprietary product ARX™ to facilitate a convenient, personalised and secure banking experience. Rivera explains, "Rather than removing a critical component to risk management and KYC (i.e. the human interaction) by a shift towards pure digital experiences and short-lived flashy AI technology, we have instead created a banking app that builds on and enhances the client-banker human interaction and relationship. This is a truly unique way of embracing technology to meet our human needs." Rivera concludes and reiterates the importance of focusing on the integrity of the user experience, "Human interaction will continue to play an integral part in private banking, and in combination with today's disruptive technologies and leaner business operating models, we believe Pilatus Bank can offer its clients long-term value and security in a continuously evolving and progressive digital age."
About Pilatus Bank
Pilatus Bank is a leading European bank that specialises in providing private and commercial banking services to high net-worth and affluent individuals. Pilatus Bank, located on 4 Old Park Lane, W1K 1QW in London, is mainly focused on offering its private banking services through its proprietary technology platform in order to make private banking more accessible and scalable. The Bank's simple and convenient solution has been a hallmark of transformation and quality of service.