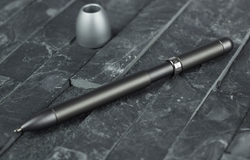 We're extremely proud to be the pioneers of this revolutionary technology
BRISTOL, UK (PRWEB) October 19, 2017
Magno-Ink by HribarCain is pleased to announce the product was fully funded within 90 minutes of launching and has now raised more than $50,000 (USD) -- six times its original campaign goal -- on Kickstarter. Magno-Ink is the world's most intelligent magnetic pen.
The inspiration was taken from a very successful product that HribarCain launched last year with the help of the Kickstarter community. Magno, the world's first magnetically controlled pencil, raised over $100,000.
The Design Engineers behind this project were at technology giant Dyson before buying their own design studio in the United Kingdom, where they now create innovative products.
"We're extremely proud to be the pioneers of this revolutionary technology," said HribarCain co-founder, Matthew Aston Cain. "We'd like to thank all of our backers for the tremendous start to our campaign, it serves as a strong validation that this is a product that people want and need."
The Magno-Ink has been called magnetic, intelligent & magical. It's engineered so the weight in hand is perfectly poised for use, the center of gravity is slightly lower than a conventional pen to provide more comfort during extended use. No detail has been overlooked. Design features include the following:

Energized by Neodymium Magnets
Telescopic Design
Water & Scratch Resistant
Aircraft Grade Aluminum
Offset Centre of Mass for Anti-roll, the only pen in the world that works in this way
Docking Station Available
Range of Colors Available comes with both blue & black ink cartridge
Custom Magnetic Close Case Packaging with ribbon release
Lifetime Warranty
Responding to early feedback from backers, the HribarCain team also announced today that after making a small design iteration to the pen, traditional ink cartridges will now be compatible with the Magno-ink.
Magno-ink is available on Kickstarter until December 15, 2017, with shipping to anywhere in the world. For more information and to pre-order, visit the Magno-Ink Page on Kickstarter.
About Magno-Ink by HRIBARCAIN
Design Engineers Ashley Hribar-Green and Matthew Aston Cain have a strong passion for innovating products that have become stale and unchanged. Their goal is to make affordable luxury for everyone. The co-founders believe that having people enjoy their products is more important than making profits, and that this attitude is essential to growing their business.