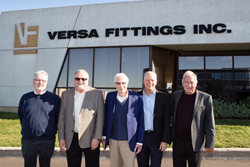 "Versa's expertise in the Canadian market plus Brennan's U.S. strength and product breadth makes for a powerful combination." -David M. Carr, President of Brennan Industries
CLEVELAND and MISSISSAUGA, Ontario (PRWEB) October 24, 2017
Highlights

Unites Brennan's U.S. locations with Versa's Canadian locations for a combined footprint of 11 distribution centers and 2 manufacturing centers across the U.S. and Canada, further decreasing the distance between customers and available inventory.
Enlarges product line to approx. 50,000 fittings, adapters and accessories from aerospace certified hydraulic connectors to brass pipe fittings.
Positions Brennan brand to expand further into Canadian market and Versa brand into U.S.
Today Brennan Industries Inc. announces the acquisition of Versa Fittings Inc., a leading manufacturer and distributor of fittings and tubing in Canada.
The acquisition will increase Brennan's distribution and manufacturing footprint in North America, while providing new market exposure for both Brennan and Versa product lines. This positions the company to further grow its market share throughout the U.S. and Canada.
Merging the complimentary product lines from both companies will result in an increase in offering to over 50K products, covering categories including: Aerospace, Hydraulic, Instrumentation, Push-to-connect, Gas, Plumbing, Clamps, Valves, and Accessories. This represents an increase of offering to over 25 percent.
"This acquisition represents a significant step forward for Brennan, Versa and our customers", said Dave Carr, Brennan President. "Versa's expertise in the Canadian market plus Brennan's U.S. strength and product breadth makes for a powerful combination. Together we'll be able to bring a larger range of products to our customers more quickly and easily than ever. I am very pleased to welcome Versa into the Brennan family."
"Versa is proud to become a part of Brennan's success", said Don Martin, General Manager of Versa. "We have always valued our customers and strived to serve them well. This move will enable us to serve them even better in the future, with an increased product line as well as additional manufacturing capabilities. I am excited about the opportunities for growth ahead and what they mean for everyone at Versa, as well as for our customers." 
About Brennan
In business for over 60 years, Brennan supplies clientele worldwide with more than 40,000 standard and special hydraulic fittings in sizes ranging from 1/16 to 3 inches. These include a wide choice of fitting types such as tube, O-ring face seal, instrumentation, metric bite type, push-to-connect, conversion and flareless bite type, as well as valves, clamps and swivels. Brennan products are stocked at strategically located, distribution centers in: Atlanta, Cleveland, Dallas, Houston, Los Angeles, Seattle, Toronto, Shanghai and Birmingham UK.
For more information visit http://brennaninc.com
About Versa
For 30 years, Versa Fittings' British Columbia, Alberta, Manitoba, Ontario and Quebec branches have enabled us to effectively meet all the needs of our customers. Each member of the team brings a wealth of knowledge and experience to the table. As a result, Versa is able to treat its customers with respect and deliver the friendly, reliable, timely service that they have come to expect and deserve.
Each Versa location is stocked with a large selection of low-pressure fittings in almost every material: black malleable and galvanized pipe and fittings, brass, plastic, and copper fittings.
For more information visit: http://www.versafittings.com
Media Contact
John Joyce
Director of Marketing
Brennan Industries
(440) 248-7088 x6008
jjoyce(at)brennaninc(dot)com
###