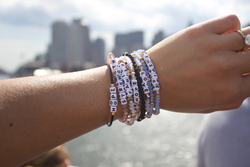 (PRWEB) October 19, 2017
In honor of National Bullying Prevention Month, jewelry brand Little Words Project® has created a new day to recognize kindness on Oct. 20 - "National Nice Girl Day."
Little Words Project®'s "National Nice Girl Day" will shed additional light on the country's bullying epidemic and raise awareness about this ever-growing issue. The brand's unique beaded bracelets featuring words such as "strength" "breathe" "brave" and "courage" are created to empower women, and this new day is meant for girls to take a stand against negativity in "girl world" and simply spread kindness amongst one another.
For all those who already own a bracelet, Little Words Project® asks that each LWP community member pass her bracelet on to a girl who needs that specific piece of encouragement more. Additionally, on Oct. 20, customers will be able to get 15% off website purchases with 10% of all sales donated to Kind Campaign.
Little Words Project® founder, Adriana Botti, took her negative experiences being bullied from a very young age and turned that into a jewelry business that has one objective in mind: uniting women of the world through inspirational words in the form of cute, trendy bracelets. This new day of celebration asks all girls who have been affected by bullying to spend this day lifting up girls who may be going through the same struggles.
"The fact that we've created a day to honor Nice Girls everywhere and are able to use our voices to spread so much kindness is exciting, and humbling." said Botti, "This company and it's mission means so much to me because of the negative experiences I've dealt with. I want to help prevent girls of all ages from having the same issues, and give them a voice if they feel they may not have one. That said, we at Little Words Project® have been so inspired by Kind Campaign and are elated to be able to donate to such a wonderful organization making efforts on the anti-bullying front."
Little Words Project® hopes to continue to spread this message well beyond Oct. 20 as well as empower females such as Maisie Williams, Joey King and Vashtie Kola, who are already fans of the brand.
To hear more about Little Words Project®'s mission and #NationalNiceGirlDay, the campaign video explains the brands inspiration for making the world a more positive place and how girls everywhere can take part in this movement.
ABOUT LITTLE WORDS PROJECT®
Little Words Project® works to unite women of all ages in one common goal: to spread kindness from woman to woman. Little Words Project® founder Adriana Botti started this company just out of college in 2013 after being bullied throughout her formative years, wanting to stop this practice of mistreatment for future generations through cute and wearable accessories. Each bracelet serves as a constant reminder of strength, or courage, or kindness, to its wearer. It is meant to be worn for as long as she needs that reminder, and then passed on to another girl who could use it more than she could. Customers can interact with one another via their mobile app or website by registering their unique tag number and sharing their stories.
ABOUT KIND CAMPAIGN
Kind Campaign is an internationally recognized nonprofit organization that brings awareness and healing to the negative and lasting effects of girl-against-girl bullying though their global movement, documentary film, in-school assemblies and educational curriculums.