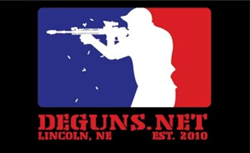 LINCOLN, Neb. (PRWEB) October 20, 2017
DEGuns, originally a online firearm and sales service, is proud to announce their new retail location where the grand opening will be presented on Friday, November 17, from 8am to 8pm at 252 N. 134th Street, Lincoln, NE. DEGuns is inviting everyone including firearm manufacturers, reps, and distributors to come and celebrate.
The new retail location is 110,00 square feet sitting on 34 acres of land. This spacious new location allows DEGuns to stock thousands of new products with the ability to expand in different merchandise like clothing, tree stands, hunting gear, winter coats, sporting goods, auto knives, binary exploding targets, bulk ammo, and safes with available delivery on any floor in your home.
DEGuns also offers price matching that local customers can take advantage of. They will have the option to order their products online and arrange for either an online delivery or in store pick up.
Come see all of the new products! This is only the beginning!

Complementary ice cream with bacon!
Complementary coffee!
Derek Broman
Discount Enterprises
252 N. 134th Street
Lincoln, NE
402-817-4555
deguns.net