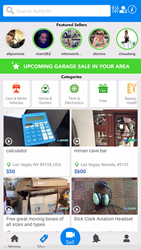 Coinciding with WebSummit is the opening of AdYoYo's Series A round of fundraising. "We are excited to attend our first WebSummit and to show the tech world our vibrant, video-based buy and sell app." said Christopher Kelly, CEO of AdYoYo
LAS VEGAS (PRWEB) October 23, 2017
The Las Vegas startup, AdYoYo, will introduce its video-only buy and sell app at the WebSummit 2017 conference in Lisbon November 6-9.
The AdYoYo app connects a community of local buyers and sellers through video listings of local items, products, and services that are for sale. Using the app, any individual or business can snap a quick video of their product or service, up to sixty seconds, and post it to the app for sale to 1000s of people near them.
AdYoYo aims to take the guesswork out of buying and selling online. With video, sellers can highlight all of the features of an item they are selling while shoppers can browse with confidence, knowing that what they see on the app is exactly what they're going to get.
Launched in March 2017, AdYoYo began marketing in July – and has since generated 50,000+ downloads in the past four months. After a successful US launch, AdYoYo opened its app in India and is active in three states: Maharastra, Rajasthan, and Andhra Pradesh.
Come and visit us at our booth in the beta area at WebSummit – or go to our website AdYoYo.com to check out our buy and sell community, available on the App Store and Google Play.
AdYoYo
It is a feature-rich online marketplace bringing local Buyers and Sellers together using the power of video, by providing users with an innovative video editor. AdYoYo's features provide a safer and more secure means by which interactions and transactions occur, and give a truer representation of the service or product being offered. Find out more at http://www.adyoyo.com.