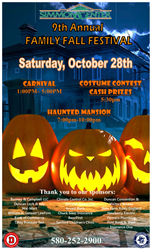 DUNCAN, Okla. (PRWEB) October 24, 2017
Simmons Center's 9th Annual Family Fall Festival will be held Oct 28th at the Simmons Center. The festival will cover everything from games and inflatables for your little ones that afternoon to a scarily great time in the haunted house that night. The event will begin at 1:00 PM and close at 10:00 PM.
In the early afternoon, bring out the smaller kiddos for the Family Fall Festival carnival. The carnival will include event staples such as the inflatables, as well as a maze, crafts, and games. Bracelets are required to participate in the festivities and can be purchased the day of the event on-site. Each bracelet will be $12.00/child. The carnival will run from 1:00-5:00 PM.
Once you've gotten your fair share of games and inflatable fun, make sure to bring your little goblins and princesses to the Family Fall Festival costume contest. The contest will be judged based on age groups and winners will be awarded prizes per group. There will also be overall scariest costume and cutest costume winners. Doors for the costume contest will open at 5:00 PM. Each adult is $1.00/person with 2 free children admitted per adult. Each additional child will cost $1.00/each. The contest will begin at 5:30 PM in the Simmons Center theatre.
For those who love a good scare, make plans to visit the Simmons Center Haunted House on Oct 28. This year, the haunted house's theme will revisit past and present horror movies. Bring a friend and have a fun night of shrieks and squeals beginning at 7:00 PM. Admission is $8.00/person. You can enjoy the haunted house from 7:00-10:00 PM at the Simmons Center's Jack A. Maurer Convention Center.
For more information, feel free to visit http://www.simmonscenter.com or call 580-252-2900 x 240.