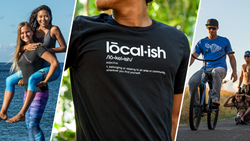 It's time to look at what being 'local-ish' means.
SAN FRANCISCO (PRWEB) November 07, 2017
Today, lifestyle brand Localish Apparel launches their online store, giving customers around the world access to casual and active wear for both men and women. The team at Localish examines what it means to be "local-ish" in today's prevalent travel culture, an idea that appeals to travelers, digital nomads, and thinkers. The online store, which can be found at http://www.livelocalish.com, features unique and original tees, tanks, headwear, and surf leggings inspired by world travel, the ocean, and exploring.
Localish was born out of the desire to be welcoming to others and sharing cultures, while respecting and learning about the communities you visit all around the world. Co-founders Jenn Biestman and Greg Coffin want to encourage that sense of belonging, whether you're a native, part-time resident, or visitor passing by. From this philosophy, Localish Apparel is made with original designs inspired by travel adventures.
Biestman and Coffin, share a love for traveling the globe to various surf destinations. Through their travels, they have met many amazing locals and communities that welcomed them with open arms from Fiji to Costa Rica, and many other places around the world.
"Surf culture can sometimes come with territorial attitudes, which is understandable but can sometimes gets out of hand and violent," said Jenn Biestman. "This bias certainly isn't limited to the surfing community, which inspired us to create Localish, a brand represents inclusivity. It's a two-way street, as respecting others and the environment are cornerstones of our philosophy."
"As a visitor, well really everywhere, it's important to respect the people and the environment. It's not about just being a tourist, it's about fully immersing yourself in other cultures," added co-founder Greg Coffin. "This is why we are thrilled to bring the Localish philosophy and products to the public. People are constantly on the move: travelers, adventurers, digital nomads, etc., so it's time to look at what being 'local-ish' means."
In addition to selling casual and active wear, Localish Apparel plans to launch the "Think Globalish, Act Localish" campaign in 2018, with an aim to encourage customers to help clean up the world's shorelines to help protect animals, swimmers and beachgoers, in addition to creating a cleaner world.