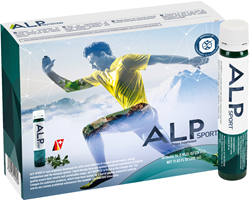 This being one of our first big feature stories of this kind is an exciting milestone for us.
Boca Raton, Fla. (PRWEB) October 20, 2017
German-based ALP NUTRITION's ALP SPORT® liquid dietary supplement for athletes was recently featured on CNS Media's NutritionInsight.com, highlighting the product's release into the U.S. market.
NutritionInsight.com is Europe's go-to source for news about nutrition and diet trends, providing a huge range of detailed nutrition health, scientific nutrition and nutrition research articles.
"This being one of our first big feature stories of this kind is an exciting milestone for us," ALP NUTRITION's Dr. Oliver Schnorr said. "We're a young, growing company so anything that can help expand our brand awareness both here in Europe and in the U.S. is fantastic for us. We have great products and we're happy to be able to spread the word to NutritionInsight.com's large, built-in audience."
ALP SPORT® is a concentrated liquid nutritional supplement that was originally developed for elite-level athletes, but now it's available to everyone. It contains vitamins C and E, vitamin B-complex, zinc, magnesium, coenzyme Q10, selenium and ALP PHYTO, a specially manufactured plant extract made from of seven different herbs grown organically in the Swiss Alps.
As a liquid supplement, ALP SPORT® can be better absorbed by the body, and the supplement is used by several recognizable German athletes like world champion and former world record hammer thrower Betty Heidler, Deniz Ilbay, a four-time youth boxing world champion, and Benjamin Haugk, a four-time German powerlifting champion and two-time top-10 finisher in the world championships.
To read the article in its entirety, go to http://www.nutritioninsight.com/news/alp-nutrition-debuts-sports-liquid-supplement-in-the-us.html.
For more information on ALP SPORT® and other ALP NUTRITION® products, visit
http://www.alpnutrition.de/en. ALP SPORT® is now available in the United States on Amazon.com at http://www.amazon.com/ALP-Nutrition-SPORT-14-Count/dp/B00SL7WEVC/ref=sr_1_2_s_it?s=hpc&ie=UTF8&qid=1507822595&sr=1-2&keywords=ALP+Sport, and with health and wellness e-commerce sites like http://www.ronniecolemannutrition.com, http://www.revnutrition.com, http://www.go4itnutrition.com and http://www.stackednutrition.com.