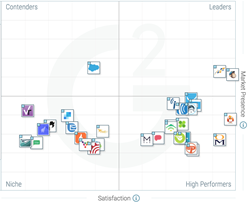 CHICAGO (PRWEB) October 19, 2017
G2 Crowd, the world's leading business software review platform, today released the Fall 2017 Email Marketing Software Grid® report to help businesses make the best Email Marketing technology buying decision. MailChimp, Constant Contact, and GetResponse were named Leaders in the report, receiving a strong customer satisfaction score with a large market presence.
Robly, Campaign Monitor, Emma, AWeber, iContact, OpenMoves Email Marketing Platform, Adestra, Klaviyo, Mad Mimi, SendPulse, FreshMail, Elastic Email, ExpressPigeon, Moosend, Delivra, and Mailigen were named High Performers in the report, earning strong customer satisfaction marks with smaller market presence scores. MailChimp had the highest overall satisfaction score while Salesforce Email Studio earned the highest overall market presence score.
This report also breaks down the Email Marketing category, based on customer satisfaction score and market presence, for Small-Business, Mid-Market, and Enterprise reviewers. At the small-business level, MailChimp had the highest overall satisfaction score and Constant Contact earned the highest overall market presence score. In the mid-market segment, MailChimp received the highest overall satisfaction score and Salesforce Email Studio earned the highest overall market presence score. Finally, at the enterprise level, MailChimp earned the highest overall satisfaction score and Salesforce Email Studio received the highest overall market presence score.
The Grid® leverages customer satisfaction data reported by authenticated users along with vendor market presence determined from social and public data. Based on a combination of these scores, each software solution is categorized as a Leader, High Performer, Contender or Niche.
Key Findings:

Not-so-fully functional — The majority of reviewers acknowledged that email marketing tools are distinct from marketing automation tools; however, users mentioned unavoidable pain points that arose from email marketing software that ended up being too simple. A few reviewers mentioned the lack of depth in automation capability, such as triggers, and analytics of click and open rates. Others complained about the lack or elimination of A/B testing functionality that would have helped marketers understand which email template would have the most impact. And still others lamented the difficulty in synchronizing their chosen email marketing solution with third-party integrations, existing CRM tools, and list management.
Lack of personalization/customization — Users pointed out that the ability to customize email templates was a significant factor in their like or dislike of an email marketing solution. While users appreciated the simplicity and ease of email templates, they struggled with the rigidity and lack of flexibility within those same templates. Users wanted to keep their emails consistent with their existing brand logo or imagery, and some email marketing solutions didn't allow for those kinds of customizations.
Unintuitive at times — The majority of reviews said that the learning curves of a majority of email marketing solutions were easy to overcome, thanks to the user-friendly interface and quality customer support. However, users said that it was when an email marketing platform's interface was clunky and unintuitive that pain points arose. According to users, an intuitive interface is key to mastering the creation of an appealing newsletter or email blast, especially if the solution is chock-full of features. Users said that when the implementation and overall usability of a tool is difficult, that frustration gets in the way of making the most out of the tool, which in turn compromises the quality of an email marketing campaign.
About the Email Marketing Software Grid® report:
The report is based on more than 6,372 reviews written by business professionals.
Of the 125 products listed in G2 Crowd's Email Marketing category, the ranked products each received ten or more reviews to qualify for inclusion on the Grid®.
About G2 Crowd, Inc.
G2 Crowd, the world's leading business solution review platform, leverages more than 225,000 user reviews to drive better purchasing decisions. Business professionals, buyers, investors, and analysts use the site to compare and select the best software and services based on peer reviews and synthesized social data. Every month, nearly one million people visit G2 Crowd's site to gain unique insights. Co-founded by the founder and former executives of SaaS leaders like BigMachines (acquired by Oracle) and SteelBrick (acquired by Salesforce) and backed by more than $45 million in capital, G2 Crowd aims to bring authenticity and transparency to the business marketplace. For more information, go to G2Crowd.com.