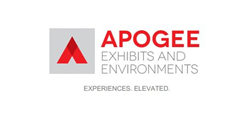 ROCHESTER, N.Y. (PRWEB) October 21, 2017
Macedon, NY — Apogee Exhibits and Environments has recently launched its new website at http://www.apogeeexhibits.com. According to President and CEO, Mark Taylor, "Apogee Exhibits' new website communicates essential information about who we are, how we work, while also showcasing a sampling of our recent work in building our clients' brands on the show floor.
We did an extensive search of agencies to help us build our new brand and finally chose Mason Marketing in Penfield, NY. They did extensive research on our culture, our competition, and our industry and really gave our new site a unique look and feel." When asked what inspired the agency's rebranding efforts for Apogee, Terri Cubiotti, Chief Operating Officer at Mason Marketing, said, "Apogee takes a distinctly unique approach to creating branded experiences for its clients, so we felt like their new web site needed to be branded to reflect what truly makes them unique in this space."
Taylor adds, "Our website not only showcases the fact that we're nimble enough to adjust our process to best fit our clients' needs, but also showcases enhanced capability in design, construction, and management of client programs."
Additional planned expansion of the site will include more portable/modular design options, case studies, as well as educational tools that clients can access to help improve their performance at events.
About Apogee Exhibits and Environments
Celebrating 26 years in business, Apogee is a full-service exhibit and event marketing firm designed to help drive brand performance by making positive, lasting impressions and elevating the show experience for its clients' customers. Apogee's scope of work includes exhibit design, fabrication services, management services, interactive technology and many other brand-strengthening products and services. For more information, visit http://www.apogeeexhibits.com.