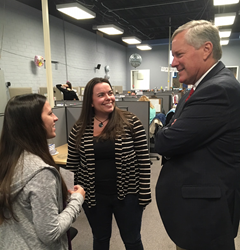 "From top to bottom, they are a first class organization that truly represents the future in healthcare technology, especially with in-home medical equipment. It was a pleasure to visit their facilities and learn about some of their exciting new developments." Rep. Meadows
ASHEVILLE, N.C. (PRWEB) October 20, 2017
Aeroflow Healthcare, a leading provider of durable medical equipment and one of Inc. Magazine's 5000 Fastest Growing Companies, today announced that it met with North Carolina Congressman Mark Meadows to discuss topics related to healthcare and their impact on North Carolina, a continuation of transparent and ongoing dialogue between the Company and prominent legislator.
Aeroflow's executive team and the company's Mom and Baby division met with Congressman Meadows on Tuesday to continue previous discussions around healthcare, further build the relationship and to address the importance of small businesses in Western North Carolina and the role of breastfeeding in parenting. Congressman Meadows also briefed the Aeroflow executive team on the current state of healthcare, in regards to the latest White House Healthcare Executive Order.
"After visiting Aeroflow in Asheville this afternoon, it is easy to see why they're one of the fastest growing companies in the country," said Congressman Mark Meadows. "From top to bottom, they are a first class organization that truly represents the future in healthcare technology, especially with in-home medical equipment. It was a pleasure to visit their facilities and learn about some of their exciting new developments occurring right here in our district. I want to thank Aeroflow CEO Casey Hite and the entire team at Aeroflow for hosting me, and for their top-notch dedication to the community."
"Aeroflow has had the pleasure of working closely with Mark for more than three years," said Casey Hite, Aeroflow CEO and Co-Founder. "Together, Mark and I have steered breastfeeding policy to benefit mothers and families not just here in North Carolina, but all across the nation. We look forward to continuing to work with Mark and his team in the future, in a particularly volatile time for healthcare legislation."
Since the ACA went into effect, Aeroflow has helped hundreds of thousands of pregnant and nursing women across the nation access lactation support, supplies, and services. The company works closely with mothers to provide exceptional support for breastfeeding health benefits and to increase the rate of breastfeeding nationally. Aeroflow plans to continue their efforts to protect and promote women's health services for mothers nationwide. For more information about Aeroflow's advocacy efforts for Women's Preventative Care, visit aeroflowbreastpumps.com/breastfeeding-advocacy.
About Aeroflow Healthcare
Aeroflow Healthcare was founded Asheville, NC in 2001 as a home oxygen provider and has since grown to become one of the leading durable medical equipment providers nationwide. Aeroflow is an accredited Medicare and Medicaid provider and accepts most commercial insurances. To learn more, visit https://aeroflowinc.com/.