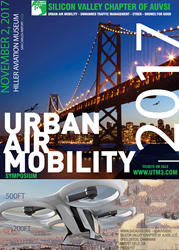 SAN CARLOS, Calif. and MOFFETT FIELD, Calif. (PRWEB) October 20, 2017
Silicon Valley AUVSI Brings Together Industry Heavy-Hitters for Technical Discussions Surrounding State of Urban Air Mobility & Unmanned Traffic Management
The Silicon Valley Association for Unmanned Vehicle Systems International has announced a symposium on November 2nd, 2017 that'll bring together the brightest minds in the unmanned aviation industry to discuss the future of Urban Air Mobility (UAM) and the state of Unmanned Traffic Management (UTM).
Keynote speakers for this event include Dr. Jaiwon Shin, NASA Associate Administrator for the Aeronautics Research Mission Directorate, and Mr. Earl Lawrence, Director of the Unmanned Aircraft Systems (UAS) Integration Office for the FAA. The FAA UAS Integration office is responsible for the facilitation of all regulations, policies, and procedures required to support FAA's UAS integration efforts. The Office serves as a central point of contact for the international aviation community on UAS issues. Mr. Shin previously served as deputy associate administrator for the Aeronautics Research Mission Directorate where he was instrumental in restructuring NASA's aeronautics program to focus on fundamental research and better align with the nation's Next Generation Air Transportation System (NextGen).
This symposium is a unique opportunity for industry and press to have access to these panelists and presenters. Industry leaders will discuss the most pressing issues related to Urban Air Mobility and UTM on 3 panels: Emergence of Urban Air Mobility, Security and Counter UAS Perspectives, and Drones for Good. A special Open Discussion will follow, moderated by Mike Feary from NASA. This unique open forum will allow attendees to ask questions and discuss real issues facing the industry including research and operational priorities.
Emergence of Urban Air Mobility, moderated by NASA's Eric Mueller, will include speakers Parimal "PK" Kopardekar, Manager of the Safe Autonomous System Operations (SASO) Project for NASA, Dr. Karthik Balakrishnan head of Project Altiscope at A3 by Airbus, Dr. Tom Prevot Director of Engineering for Airspace Systems at UBER, Rob Eagles Director of Air Traffic Management Infrastructure (Safety & Flight Operations) at IATA, Anil V. Nanduri is Vice President in the New Technology Group and General Manager of the UAV segment at Intel Corporation, Attorney Paul J. Fraidenburgh of Buchalter, and Lyle Chamberlain, Principal Mechanical Engineer & Co-Founder of NearEarth Autonomy.
Speakers addressing Security and Counter UAS Perspectives include Jerry Davis, the Chief Information Officer at NASA Ames Research Center, and former Deputy Assistant Secretary for Cyber Security at the Department of Veterans Affairs, as well as the Chief Information Security Officer (CISO) for NASA. He has also held positions with the Central Intelligence Agency (CIA) as a Special Operations Program Officer. Award winning software developer & rapid prototyper Greg Deeds, CEO of Technology Exploration Group and the Chairman of the Silicon Valley Chapter of AUVSI, Craig Marcinkowski, Director of Strategy and Business Development for Gryphon Sensors, and Ajay Amlani, CEO in Residence and commercial Executive at DIUx at United States Department of Defense will also speak on this important topic. This panel will be moderated by Brian E. Smith, Special Assistant for Aeronautics in the Human Systems Integration Division at Ames and member of the Cybersecurity Team within the NASA Aviation Operations and Safety Program.
Drones for Good will be moderated by Jessie Moobery, Head of Deployment, Altiscope at A3 by Airbus. Her panel will consist of industry change-makers David Hansell Global Aviation Policy Lead for Facebook and their High Altitude, Long Endurance UAS project (Aquila), VP of Precision Integrated Programs Matt Parker, Dan Czerwonka of ZIPLINE global operations, Richard Fields IV the Battalion Chief of Los Angeles Fire Department, and Amit Ganjoo of Anra Technologies.
This event will take place in Silicon Valley at the historic Hiller Aviation Museum in San Carlos, California. The venue sits adjacent to San Carlos Airport – KSQL. Symposium attendees will also have full access to the museum, a large indoor drone cage to test your drone piloting skills, the Aviato car from HBO's hit show Silicon Valley, and a networking reception. Tickets are on sale now, and more information can be found at UrbanAirMobility.org.
Contact: Jennifer Deeds
Communications Director, Silicon Valley AUVSI
Communications@SVCauvsi.org