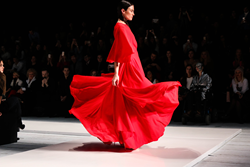 MOSCOW, Russia (PRWEB) October 20, 2017
Mercedes-Benz Fashion Week Russia (MBFW Russia) and the Ministry of Health of the Russian Federation are together launching a new awareness mass media campaign, Russian designers unite against HIV/AIDS. Ten fashion designers from various Russian cities have prepared special red-colored fashion looks to be featured at the opening of their runway shows at MBFW Russia this season.
The 35th season of MBFW Russia will start this Saturday, October 21. The key objective of this mass media campaign is to draw wide attention to the problem of HIV/AIDS epidemic in Russia. According to statistics of the Ministry of Health of the Russian Federation, every hour 10 people get infected with this virus across Russia. The following Russian designers will participate in the campaign: Artem Shumov, Atelier B by Gala B, KONDAKOVA, KSENIASERAYA, N.LEGENDA, Saint-Tokyo, SENSUS COUTURE, YASYA MINOCHKINA, Anastasia Dokuchaeva, and Julia Dalakian. The schedule of fashion shows involved in the groundbreaking campaign is available at official website http://mercedesbenzfashionweek.ru/en/.
"All the events that occur at catwalks of Mercedes-Benz Fashion Week Russia always get wide public response both in Russia and worldwide. The involvement of popular fashion designers will deliver the message about the risks of contracting HIV to various age groups," said Alexander Shumsky, President of Russian Fashion Council and founder of MBFW Russia.
Oleg Salagay, Director of the Public Health and Communications Department at the Ministry of Health of the Russian Federation, added, "Lately, famous people and brands have been cooperating to use their influence to fight against HIV. Such campaigns are known to promote social changes, to raise awareness regarding HIV/AIDS. World experience shows that the fashion industry has an important role in terms of changing the attitude toward HIV/AIDS, as well as towards HIV/AIDS-positive people. We're proud to say that Russian designers are supportive and aren't afraid to use their influence on fashion platforms with the view of attracting attention to one of the most pressing health issues in Russia and worldwide."
Top Russian bloggers and celebrities are joining their efforts with designers and are going to take part in discussing the issue across social media. Designers of MBFW Russia will present a capsule collection of T-shirts, while bloggers will post their campaign messages wearing these T-shirts. International media partners such as Fashion TV, Depesha Magazine, Zoe Magazine, and RBTH are also taking part in this awareness raising campaign in the matters of early HIV testing and treatment seeking.
Top stylist and designer Gala Borzova said, "I've created this extraordinary bright look to draw attention to HIV/AIDS issues. There is not this 'risk group' term any longer, anyone can get this virus. Healthy lifestyle is a trend today, like think not only about your good looks, but about your well-being, too. It is important to understand that you can't be sure of your HIV-status if you don't take HIV tests consistently. This is what really matters! However, we need to remember that being HIV/AIDS-positive does not rule you out from social life."
Designer Artem Shumov made his comment, too, "HIV and AIDS awareness is an urgent matter in Russia. We should focus on every aspect: the state support of treatment and adaptation programs, awareness campaigns for young people, and not only for them, protection means, advanced treatment methods, tolerance toward HIV-positive people, abandoning stereotypes associated with this problem. Open dialog is the thing that can lead to making right decisions and taking effective actions."
Population of Russia exceeds 146 million people. 900,000 of them are currently HIV-positive. Over 86.6 thousand new HIV cases were registered in 2016.
MERCEDES-BENZ FASHION WEEK RUSSIA
Russian Fashion Council runs Mercedes-Benz Fashion Week Russia, the biggest and most widely media-covered fashion event in Russia and Eastern Europe. Fashion Week takes place in Moscow twice a year, in March and October, since 2000, showcasing over 70 designers. Each season, MBFW Russia is attended by over 55,000 guests, including thousands of buyers, journalists, and industry experts. More than 1,000,000 viewers follow live streaming videos of fashion shows from Moscow on the Internet through hundreds of web-sites and media channels. Mercedes-Benz Fashion Week Russia is a gateway for Russian talents to global markets and for international designers to local market, as well.